Black Friday and Cyber Monday are coming, which means it's prime time to drive massive sales for your business.
But with so many retailers flooding inboxes with deals, how can you stand out and truly capitalize?
This article will provide you with 15 creative tactics to promote your brand effectively on the biggest shopping day of the year.
I'll share unconventional methods beyond just discounting, so you can delight customers, create buzz, and experience your best Black Friday yet.
With these outside-the-box ideas, you'll be armed with the tools to drive traffic, increase conversion rates, and take your promotions to the next level.
Get ready to spark serious sales and success this holiday season.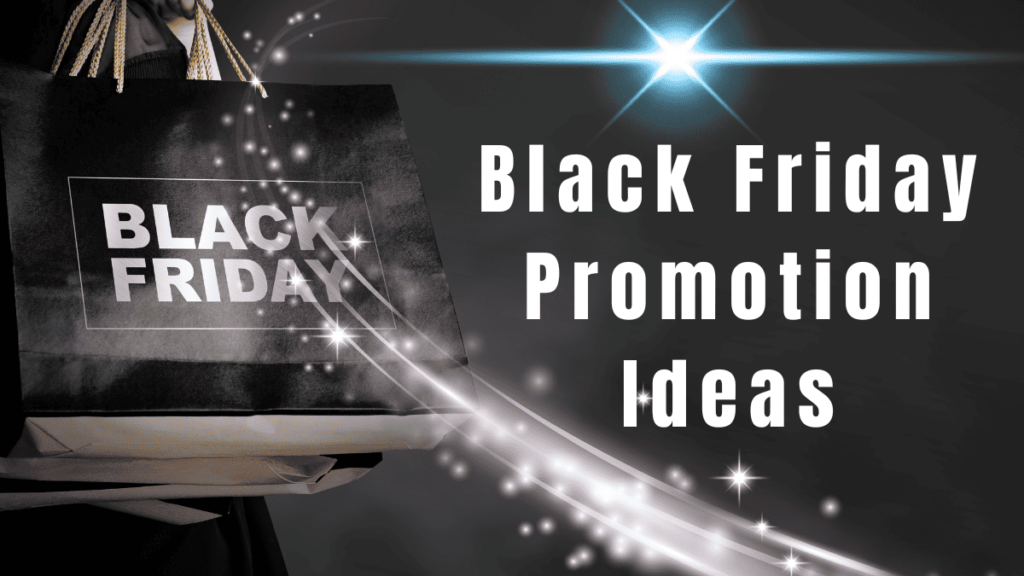 15 Black Friday Tips For Selling More
 1. Start Promotions Early
Don't wait until Black Friday to announce your deals. Start teasing discounts and exclusive offers at least 2-3 weeks in advance. 

Send a series of emails building anticipation for your upcoming sales. This trains customers to hold off on purchases until your promotions go live. 

Consider giving email subscribers early access to deals or special coupon codes. Starting the buzz early ensures your audience is ready and eager to shop on the big day. 
 2. Create Urgency with Scarcity
Leverage the power of limited time offers. Instead of making discounts last all weekend, create flash sales lasting just a few hours. Use countdown timers to prompt immediate action. 

Offer deep discounts on high-demand items, but only while supplies last. Scarcity triggers the fear of missing out, prompting shoppers to buy quickly before deals disappear. 

Make it clear your offers are exclusive to Black Friday for one day only.
3. Offer Irresistible Bundles
Sweeten the pot by packaging hot-ticket items with other complementary products or services. Shoppers love the increased perceived value and convenience of bundles. 

You can afford to offer an appealing discount when products are bundled together. 

Appeal to shoppers looking to knock out their entire holiday shopping list in one purchase. 

Bundles also work well for gifting. Get creative with what you include to provide an awesome experience.
4. Encourage Social Sharing
Incentivize customers to share your promotions with their networks for additional discounts. 

Offer a coupon code or extra % off for sharing on social media. Viral reach from enthusiasts can amplify your message. 

Encourage user generated content like reviews or unboxing videos for more exposure. The power of social sharing not only boosts sales but also saves you money on advertising.
 5. Optimize for Search 
With so many users searching for Black Friday deals, be sure to nail your keyword optimization. Include relevant phrases like "Black Friday 2023" in titles. 

Create dedicated landing pages for your promotions. Publish blog posts and videos about hot deals in your niche and link back to your site. 

Claim and update your Google My Business listing with holiday hours and promotions.

SEO will drive qualified traffic when buyers are actively searching.
6. Extend Promotions Strategically
While limited-time scarcity creates urgency, extending top-performing promotions slightly can also be effective. 

Analyze which flash sales or coupon codes are working well and keep them active an extra day or two into the weekend. 

But don't dilute scarcity too much by making all deals last a full week or longer. Find the ideal balance of scarcity versus extended exposure for each of your offers based on data.
 7. Delight with Surprises
Sweeten purchases with complimentary gifts or offers to delight customers. Include free expedited shipping, gift wrapping, or a digital bonus item with every order. 

Handwritten thank you notes are another personalized touch. Surprising shoppers with something extra creates positive brand associations. 

Consider offering time-limited mystery discounts, where shoppers won't know the exact percentage off until their order is complete. The element of surprise sparks excitement.
8. Produce Relevant Content
Develop and promote targeted content like gift guides, comparison articles, and Black Friday tips tailored to your products, services and audience. 

These should be designed to attract and assist potential customers in the consideration phase. Informational content presented in a helpful way increases trust and positions your brand as an authority. 

Promote this content through social, email, and search to bring in traffic.
 9. Run Lightning Deals
Lightning deals create a competitive, game-like feel while shopping. For a very limited window, offer an additional tier of discounting on select items. 

This could be an extra 10-15% off for 2 hours only. The ticking countdown clock pressures buyers to act fast before missing out. Lightning deals effectively supercharge scarcity.
 10. Leverage Influencer Marketing
Partner with niche influencers like bloggers and YouTube creators to promote your Black Friday promotions to their engaged follower base. 

Offer exclusive coupon codes for their audiences. Ask influencers to showcase the deals in YouTube videos and Instagram posts. 

Pay them in free products or commission on sales. The credibility influencers bring can expand your reach.
11. Send Promotional Emails
Segment your email list by behavior to target the right offers to the right people. Send a series of emails to remind subscribers of upcoming deals. 

Share sneak peeks of the discounts for email-subscribers only. Promote the deals across your email automations based on interest and purchase history. 

Email still provides unmatched ROI for driving repeat purchases.
 12. Host Contests and Giveaways
Encourage user generated content and social buzz through contests and giveaways. 

For example, have customers post pictures with their purchases to enter to win a gift card. 

Or offer prizes for sharing your deals. Contests boost engagement and word-of-mouth exposure.
 13. Provide Unique Coupon Codes
Offer special coupon codes and vouchers tailored to different audiences. Have unique codes for email subscribers, social media followers, influencer audiences, etc. 

This allows you to track engagement and redemption rates by channel. Custom codes also prevent generic stacking of coupons. Make them expire quickly to encourage fast use.
14. Reward Loyal Customers
Offer exclusive discounts, early access to deals, or free gifts only for your VIP customers. 

Identify your repeat buyers and highest spenders over the past year and treat them to special perks. 

This shows them you value their loyalty. First-time shoppers should get a small discount, while loyalists get the best deals.
15. Create Gift Guides
Develop comprehensive gift guides tailored to different recipient types - women, men, teens, grandparents, newlyweds, etc. Include a wide selection of products from your inventory appropriate for each recipient. 

Gift guides simplify the buying process for shoppers seeking inspiration. Promote them across your website, emails and social channels.
Final Thoughts
To recap, some of the most effective Black Friday promotion methods include:
Starting promotions early to build anticipation
Driving urgency with limited-time and scarce offers
Providing value through deep discounts and creative bundles
Encouraging social sharing for viral reach
Optimizing for key search terms during the shopping frenzy
Delighting customers with surprises and loyalty perks
Producing targeted content and gift guides
Creativity and continual testing will be key to standing out among all the Black Friday noise.
Experiment with these unconventional tactics to see what resonates best with your audience.
Most importantly, focus on over-delivering on value, building relationships, and creating a memorable experience for shoppers.
Meet their needs this holiday season and they'll remember your brand.
Deliver an exceptional Black Friday promotion by keeping your customers' satisfaction and enjoyment at the core.
If you apply even a handful of the creative marketing and promotion tactics covered in this article, you'll be well on your way to record-shattering Black Friday success.
You may also be interested in: 

1. Quality Paid Traffic Sites 

2. Jobs That Make a Difference in People's Lives

3. Free Stock Images For Commercial Use