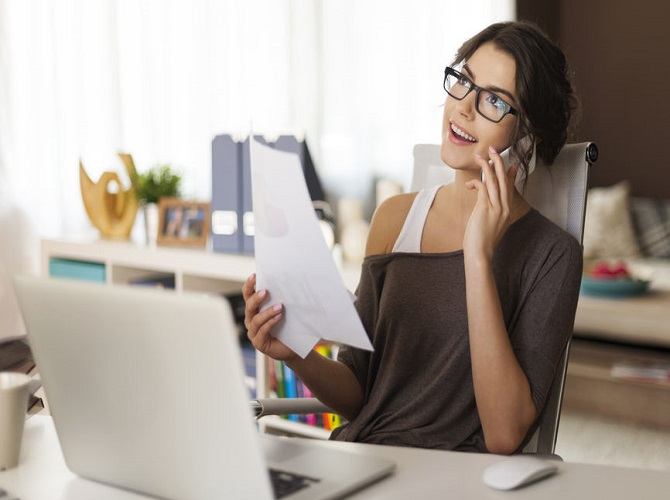 ?
Some of the day?s best moments can be found at home.
There is an added comfort level that can be experienced at home.
Instead of being adventurous, a homebody focuses on consistency and safety.
Many are seen as being introverted, but this is not always the case.
That urge to stay home can be so strong for some that finding traditional forms of employment can become quite difficult.
Thankfully, with recent increases in freelancing availability and home-based career options, you can find some good jobs that can help you stay at home, work alone, and still be comfortable every day.

?
#1. Dog Watcher?????
Several websites allow you to create a profile that will match dog owners who need boarding, walking, or daycare for their pets with you.
Your job is simple: just set your own prices and then publish your profile.
It may be necessary to live in an urban or suburban environment to make decent cash from this opportunity, but you?ll never need to leave home to work.
If you board dogs, you may need to look at the zoning in your neighborhood.
Your dog watching services may require a business license.
Some zones may not allow a home-based business like this one at all.
You may also be required to contact a local veterinarian to have on-call in case there is a pet emergency.
Websites that can help you get started include DogVacay.com and Rover.com.
??
#2. Errand Runner
Everyone has errands that need to be completed. You know ? those odds jobs, like grocery shopping, cleaning the house, or making a playlist for a bridal shower.
Because of the speed of modern life, we don?t necessarily have time to complete those tasks.
That?s why becoming an errand runner could be a great way to earn full-time money while staying at home.
In this job option, you can accept tasks or errands based on your level of comfort.
That means you could stay at home every day, taking tasks from people who send them to you.
Then, when you?re finished with the work, you just deliver it via email or carrier.
Most sites allow you to bid on only the jobs you want, which means you?ll never be stuck doing something that makes you uncomfortable.
Take a look at TaskRabbit.com to see if it might be a good fit for your homebody lifestyle.
?
#3. Tutor
If you have a teaching background and you prefer to be a homebody, then tutoring is a very lucrative opportunity.
Remote tutoring over Skype, FaceTime, or a similar service can earn more than $40 per hour in some regions of the United States.
Although some tutors may need to be licensed for teaching, that?s better money than a lot of full-time teachers make.
It can be difficult to locate a bona fide online tutoring website, but Tutor.com is quite reliable.
Wyzant.com may also have some opportunities to explore.
?
#4. Secret Shopping
Just about all of us have received those spam emails that ask if we want to become a secret shopper in our neighborhood.
If you click on those emails, there?s a good chance they?ll ask you for all your personal data not to give you a job, but to steal your identity.
You might be a homebody, but you still need to protect your great credit score.
There are a couple of good apps available that will help you be able to earn some extra cash as you complete your daily errands.
You?ll be asked to take pictures of displays, write down prices of products, or rate employee interactions that you have.
Then you?ll be asked to file a report of your experience.
Most jobs only pay a few bucks, but that can add up over the course of a day.
Look at using Gigwalk or Rewardable for the best experience with this job option.
?
#5. Virtual Assistant
Amazon stated in 2017 that they were going to hire up to 5,000 home-based customer service professionals.
Numerous companies are hiring people who telecommute on a regular basis.
One growing career option for homebodies is the position of a virtual assistant.
They might have been called secretaries in the past. They?re administrative assistants today.
As a virtual assistant, you?ll be asked to complete the same tasks.
You can answer phones, set schedules, take notes from dictation, and complete a surprising amount of office work from the comfort of home.
To be a top home-based virtual assistant, you?ll need some specific items of technology.
Most companies will require a VPN.
You?ll need a desktop, laptop, or tablet PC that is compatible with the company?s platforms.
You may also be required to install a dedicated land-based phone line to take calls.
Virtual assistants can easily make up to $50,000 with full benefits and never need to leave their homes for work.
Look on a jobs website like Indeed or Monster to find opportunities that may be right for you.
If you prefer freelancing, consider putting a profile up on a website like Fiverr or Upwork.
?
#6. Traditional Sales
You might celebrate when friends cancel their plans. You might prefer cooking on your own so you know that you?ll get a great meal.
Many have mistaken these attributes as introverted personality traits.
There are, in fact, many extroverts that love being homebodies too.
That?s why a home-based sales career could be the right option.
For those who enjoy the interaction of a sales call, a multi-level marketing (MLM) opportunity is usually what is chosen.
Unfortunately, the average person makes very little money selling products as an independent contractor.
Look instead to become a home-based corporate account manager or inside sales representative.
In these formal positions, you?ll be representing a traditional brand which sells products or services to your local community.
You may earn a salary, work on commission, or a combination of both payment options.
One good site to look for home-based sales jobs is Smart Recruiters.
Any other employment-related website with job listings may have this type of position advertised as well.
?
#7. Writing
Why do homebodies love to write as a career?
Because it allows them to interact with the rest of the world without actually needing to be face-to-face with people.
When most people think of a career as a ?writer,? they envision becoming an author, like James Patterson, Stephen King, or Catherine Coulter.
That is a possibility if you love creative writing.
Writers, however, are everywhere today. They work in every industry.
When you read a product description, that was created by a writer.
If you read an instructional manual on how to put something you purchased together, that was crafted by a writer.
Writers produce owner?s manuals, marketing emails, and how-to guides for brands all over the world.
Companies that need the services of these technical, scientific, or marketing writers allow them to work from home.
There are many, many websites which promise to connect you to good-paying writing jobs.
The best option is to contact companies directly or look for their advertised open positions.
That eliminates much of the spam that you?ll find in this category.
You?ll also want to avoid jobs that compensate you based on voting, popularity, or ratings for your work.
If you get no ratings, your work may not generate any income for you.
Look for sites that demand expertise and provide guaranteed compensation, such as Shmoop.
You can also look at staffing companies, such as Kelly Services, for work as a writer.
?
#8. Transcription and Data Entry
There are multiple opportunities in the field of transcription that are perfect for homebodies.
You receive the audio or video recordings that need to be transcribed and a deadline to get the job done.
Some agencies will hire transcriptionists as a telecommuting position as well.
The two most common fields for full-time transcription work are health services and law enforcement.
If you do work in a law enforcement category, you will be required to pass a background check, be a documented citizen, and likely have a minimum typing speed that can be verified.
Most transcription positions require a broadband internet connection.
You can easily supplement transcription work with other forms of data entry.
As long as you own compatible technology, you can receive data to enter at home and receive a decent salary in doing so.
Transcriptionists and data entry specialists can easily earn $40,000 per year when working full-time.
Look for official positions with local companies for opportunities in this category first.
?Freelance websites will allow you to create a profile that will let you take transcription and data entry jobs.
Be sure to visit Athreon as well, but make sure you can meet their data entry requirements.
Many Athreon jobs require a 12- to 24-hour turnaround, a minimum number of working days per week, and a minimum number of script lines per day.
?
#9. Video Editing
If you have the software for video editing at home, then you can meet the high demands there are for post-production work.
Editing raw video footage, synching audio, and adding special effects are all common requests that are all needed and the perfect job opportunity for homebodies.
You?ll likely need a portfolio of work to show potential employers or clients for this job opportunity.
You may also be required to use specific editing software, which may need to be purchased before starting to work.
Being familiar with Lightworks or Avid Media Composer are two common requirements in this category.
Glassdoor is a good website to visit if you?re looking for this type of job.
Building a profile on LinkedIn can also be helpful.
You might also look into opportunities on Behance, Simply Hired, or Production Hub.

?
#10. Blogging
Not everyone may enjoy becoming a professional writer, but blogging is a different type of writing position.
Instead of focusing on technical work or creating sales and marketing literature, blogging allows you to discuss something that you are passionate about.
Think about your hobbies.
What is the one thing you love to do whenever you have a moment to relax?
Do you play video games? Watch movies? Take a quiet hike in the mountains? Try new recipes?
These are all potential blogs that you could be writing.
Each blog offers the opportunity to begin earning money from your experiences.
Although the average blogger earns less than $10,000 per year, especially in the first 12-24 months of working, many give up on this venture right away because they don?t see instant success.
That drags down the compensation average.
It is also important to choose a good blogging platform.
Many new bloggers choose WordPress or Blogger, but there are other options.
Take some time to review Wealthy Affiliate.
You can try it out for free and gain access to an entire community of supported, like-minded people who enjoy blogging about their passions.
You can learn how to turn your blog into a brand, market your blog to new communities, and turn it into something that can build real wealth.
?
What Job Is Right for You?
Just because you?re a homebody doesn?t mean that you can?t earn a decent living.
Whether you seek out formal employment, start your own business, or become a freelancer, there are lucrative opportunities available right now that will let you enjoy all the benefits of staying at home.
Make sure that you take full advantage of the resources that many of these categories offer at the same time.
Take Wealthy Affiliate, for example.
You can build a thriving online business by creating a website in as little as 30 seconds and have multiple ways to begin generating revenue from this platform.
And Wealthy Affiliate allows you to get started with a free basic membership to see if this platform and its resources are right for your needs.
There?s no reason to be broke when you prefer life as a homebody.
Choose your career path and find a great job that you?ll love.
?
?
?