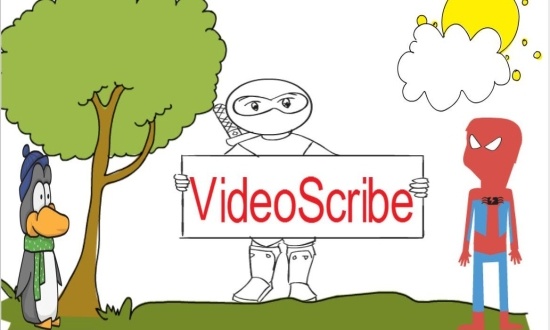 If you want to know how to make videos for YouTube, Kickstarter, or for any other marketing need, then Videoscribe by Sparkol could be the perfect tool for you.
It is often described as the best whiteboard animation video software that's available right now.
Does it work like it should? Is it worth the price?
These and many more questions will be answered in the review below.
How Does Videoscribe Work??
You don't need any technical video editing skills in order to use Videoscribe. That is perhaps its biggest advantage.
It allows you to select the images you want for your video, write text for that image in a way that is similar to MS PowerPoint, and then you get to size the text in a way that makes sense for the image.
The advantage here is that you get a simple point-and-click method of adding visual elements to your video.
The disadvantage here is that a few of these images seem to have been taken right out of the 1990s public domain clip art.
The images can be customized, however, which is a useful tool to breathe new life into your marketing efforts.
There are certainly some great images to be had, especially of expressive people, but overall this part of the system requires your creativity to make it work well. You will find images in many different categories (49 altogether): arrows, money, shapes, business, tools, superheros, sport, food and drink and many more.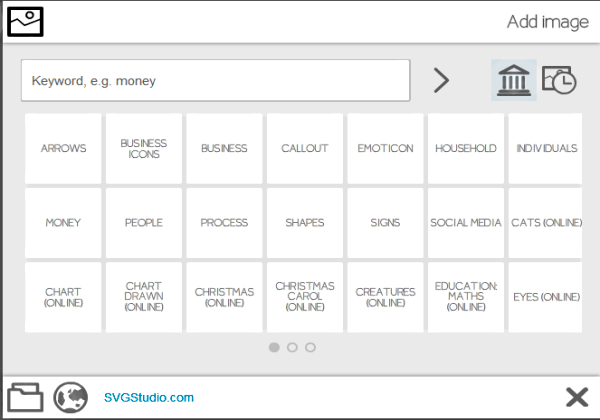 Sample images from the Money category:
If you're in a hurry, Videoscribe isn't going to work well for you.
With 100's of images, it can take a little time to find that perfect image that reflects your story.
There's also an advantage in the fact that the images used in Videoscribe are royalty-free as well.
You can upload your own images if you wish to your animated marketing video, but results for this are mixed.
Because the images are drawn, the clipart style images tend to work the best in the videos and not everyone may have a custom image like this available.
You also get to add music. This fact alone almost makes it worthwhile to use this method of video creation.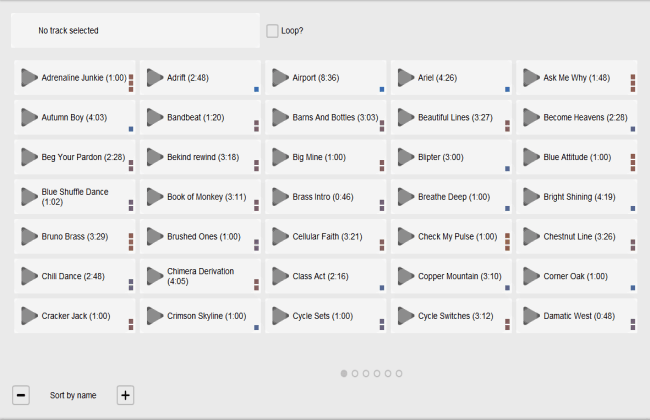 Music has specific licensing and royalties that must be paid to the artists who created it any time it is streamed online.
If you don't secure the rights to use the music and you post your video on YouTube or anywhere else where it can be streamed, then you're putting yourself at risk.?
Videoscribe has plenty of music options (over 200 tracks) that can be added with no risk of litigation. Each file may last from about 1 minute to several minutes.?
?
What About the Videoscribe Hands??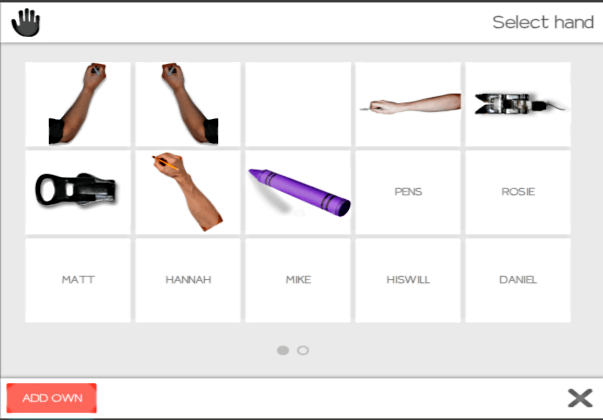 The feature that most folks talk about with Videoscribe is the animated hand which writes out the text you've put on each video block that is being added to the video.
You get to choose what kind of hand or pen writes out the text and draws the images chosen so it coordinates with your video. There are many from which to choose – enough to satisfy most personal preferences.
How Can a Story Become Unique?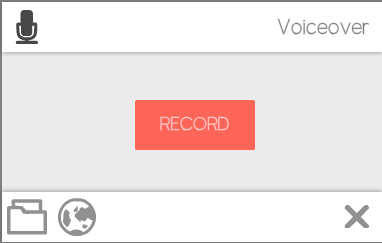 The one absolute advantage of Videoscribe is the voiceover feature. This is the one place where true customization takes place.
You speak into your computer's microphone or your own USB/3.5 mm mic and say whatever it is you need to say about what you're trying to promote.
A killer story that you've created can become the foundation of a quality video and Videoscribe by Sparkol allows this to happen.
Then Videoscribe Gets to Work?
Once you've completed everything in your video and selected any coordinating animations you'd like to include, then you're ready for this marketing system to get to work.
Your video comes to life through the power of animation. The end result is a video that looks like it was professionally produced, but for a fraction of the price or the time it would traditionally take to edit a film.
Once the video is completed, you can export your movies into WMV, FLV, or MOV formats. You can also export them as PNG or JPG sequences if you prefer.
Here's a short, sample video that I've created in 20 minutes.
[button link="https://bizfordoers.com/sparkol" bg_color="#120da3″ window="yes"]Click Here to Start Your Free Trial [/button]
What Is the Cost of Videoscribe??
Like many marketing software solutions, Videoscribe works on a licensing basis.
If you have a team of 5, for example, and you want everyone to have access to the product, then you'd need to purchase a license pack of 5 to accommodate everyone.
Most people, however, will benefit from the single user option. It can be paid annually or in monthly installments, but an annual payment will help to save you a lot of cash.
If you pay annually, then the cost of Videoscribe is just $198. That breaks down to $16.50 per month.
In comparison, a recurring monthly subscription to this video creation service is $29 per month.
I actually prefer the one-time payment option of $665 because then you get unlimited commercial access to Videoscribe and can create as many videos as you wish without worrying about any other payments.
Videoscribe can be downloaded onto any computer, but it must be used through a Sparkol account. If you wish to see what this video creation software is like before committing a payment for it, a 7 day free trial is available.
There are watermarks on the videos created in the free trial and no commercial licensing offered, but it is a great chance to see if you like the formats and customization options of the software.
The Advantages of Videoscribe Are…?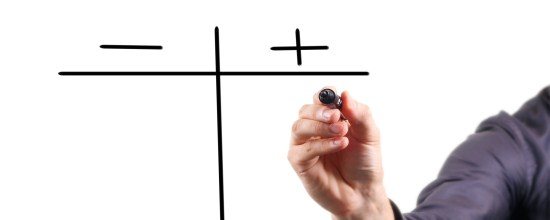 You get to make a professional marketing video in just minutes. I can create up to 5 quality videos in a single day.
Your images and music are all royalty-free and your subscription is also your license. You don't have to worry about how many streams your video picks up or be forced to pay royalties in advance.
There are plenty of icons that are reflective of businesses, social media, and shapes that can have color and text added to them for a custom experience.
Your custom image can be included in your video to create a fun viewing opportunity.
It has the tools to be helpful for any industry, exports to several different file types, and makes stunning personal videos.
The whiteboard animation software is easy and fun to use.
The Disadvantages of Videoscribe Are…?
You may feel unsatisfied with several of the icons that are available.
You must log into a Sparkol account in order to access Videoscribe, which means you must have an internet connection.
Is There Value in Owning a Videoscribe Subscription?
I believe that the advantages of Videoscribe clearly outweigh the disadvantages of this software. It is an easy way to reach out to your core business audience or to create a video for personal needs.
Because there is no contract, there is also no commitment.
You can literally purchase one month of Videoscribe by Sparkol, create as many videos as possible in that time period, and then cancel your subscription and still be able to have the commercial license to distribute your videos.
Videoscribe is fun. It takes advantage of the whiteboard phenomenon that helps to keep a viewer's attention and evaluate the pros and cons of doing business with you.
It's easy enough that anyone can use the program, yet a strong enough software solution that it will meet the needs of most businesses quite effectively.
If you want to know how to make whiteboard animation videos for YouTube, then Videoscribe is my recommended solution.
In my opinion it is easily the best whiteboard animation software that is available today.
Are you going to try out Videoscribe? What is your favorite software for making videos?