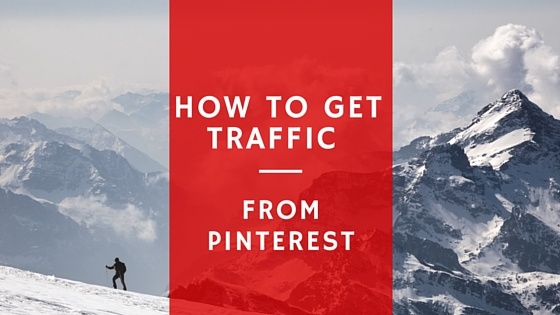 All internet marketers know that social networks are a great source of traffic and if they want to get targeted visitors to their websites they should be active either on Twitter, Facebook, LinkedIn, or Pinterest.
But which one should be chosen?
Which one would be best for your business?
The answers to those questions depend on your niche.
For example: if your target audience is women, then Pinterest should be one of your top choices.
[quote]Globally, the site is most popular with women. In 2012, a report found that 83% of the global users were women.[/quote] Source: Wikipedia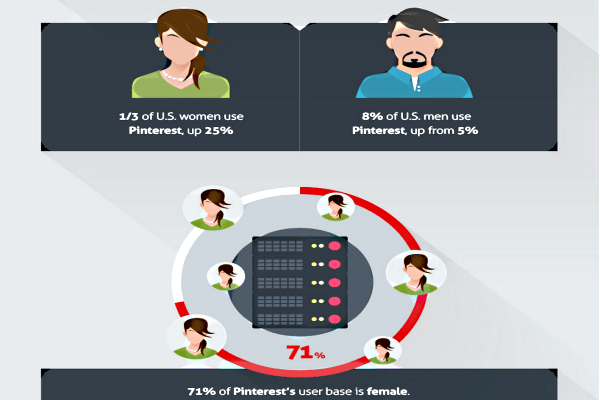 Source: QuickSprout.com
If you?re using high quality images or infographics in your business, then Pinterest is also a top consideration for you.
If you can and like creating custom images that draw attention, then Pinterest is for you as well.
This is what a typical Pinterest board looks like.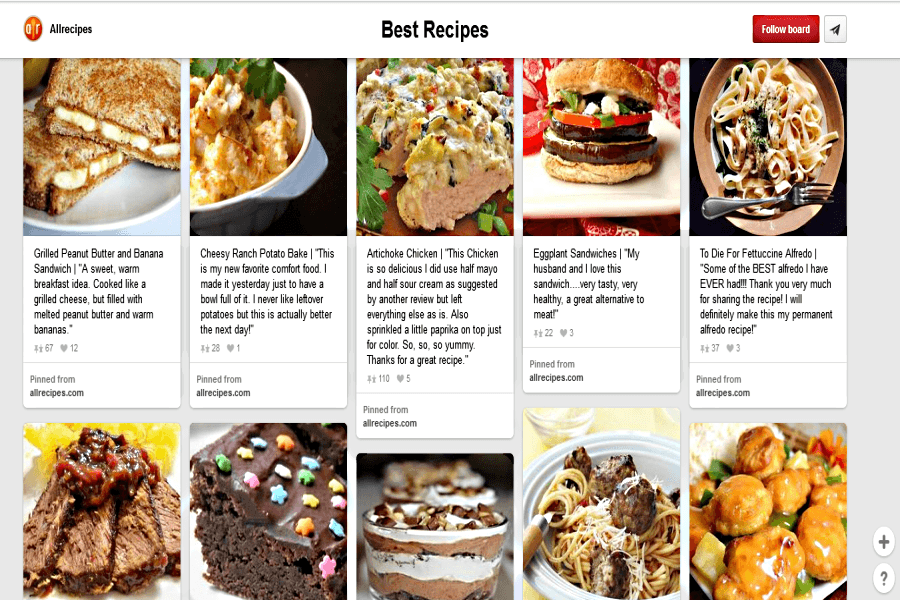 As you can see, it?s full of images which you can repin and like.
As the title of this post suggests, this article is going to explain how to get traffic to your website from Pinterest.
It?s really not that difficult! You just need to do some work and be consistent with your practices.
Over time, visitor interest builds for your content and that leads to more engagement with your targeted audience.
Why Pinterest?
Why is Pinterest one of the top social networking and social media options for driving traffic to your website today?
Because the development process is simple and nearly effortless once you create your initial profile.
It's also an extremely popular social network.
[quote]Pinterest is now the 3rd most popular social network in the U.S. in terms of traffic[/quote] (Experian)

Source: hubspot.com
What?s more, pins created on Pinterest have great longevity because people like sharing images.
This means your pin can be a great source of traffic to your website for a long time, perfectly complementing your evergreen or pillar content.
[quote]The useful life of the average tweet can be measured in minutes. Most posts on Facebook exist in users? streams for perhaps a few hours. But a pin on Pinterest? That can last thousands of times longer, according to a new study by Piqora (formerly Pinfluencer). ?Sure, you get 70 percent of your clicks in the first two days,? Pinqora CEO Shara Verma told me last week. ?But there?s a huge long tail. Clicks kept coming all the way for 30 days, and even beyond.?[/quote]
Source: venturebeat.com
How to Set Up a Pinterest Account
If you want to start driving traffic from Pinterest, then you'll need to set up an account.
That?s how a Pinterest profile looks like: logo, brand name, website URL, short description, statistics and boards.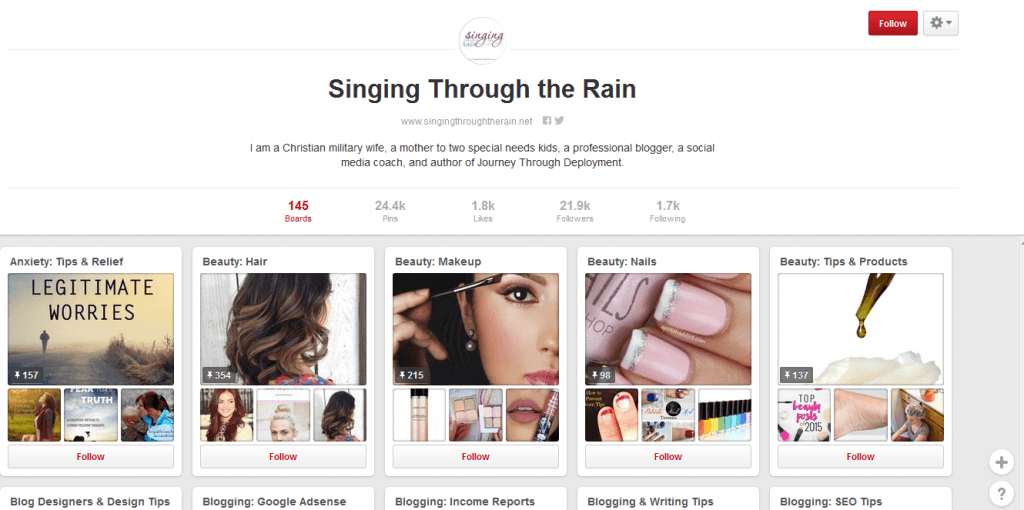 Step 1:
Go to Pinterest and create your new account: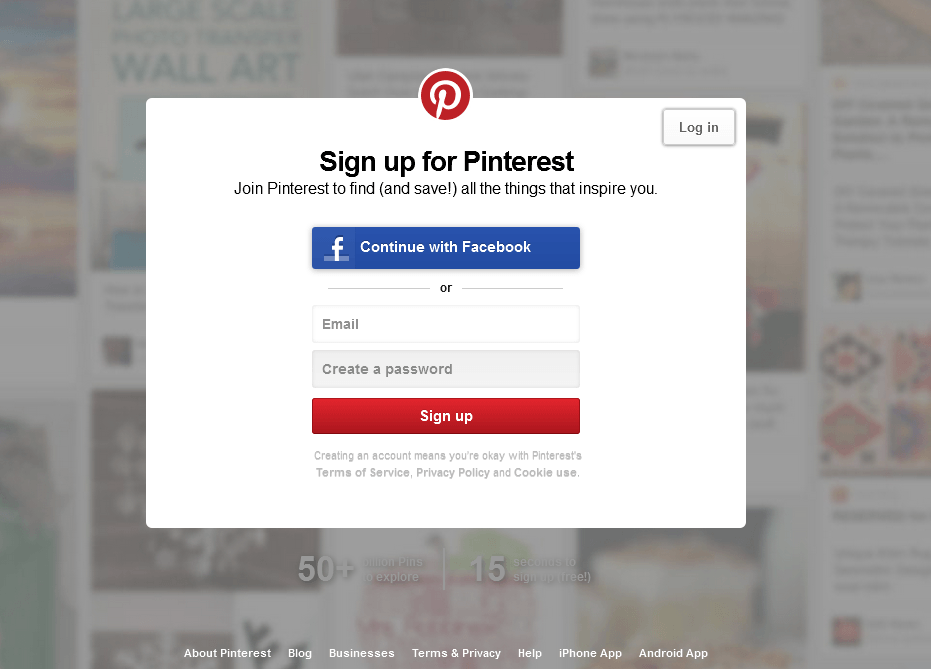 Step 2:
Fill out the necessary fields: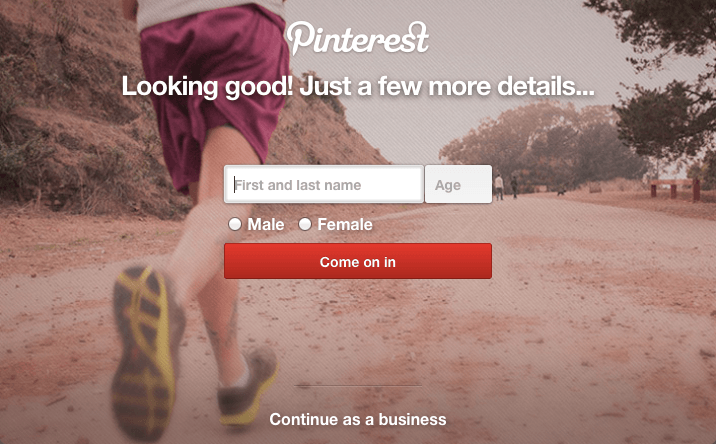 Step 3:
If you want to you can create a business account: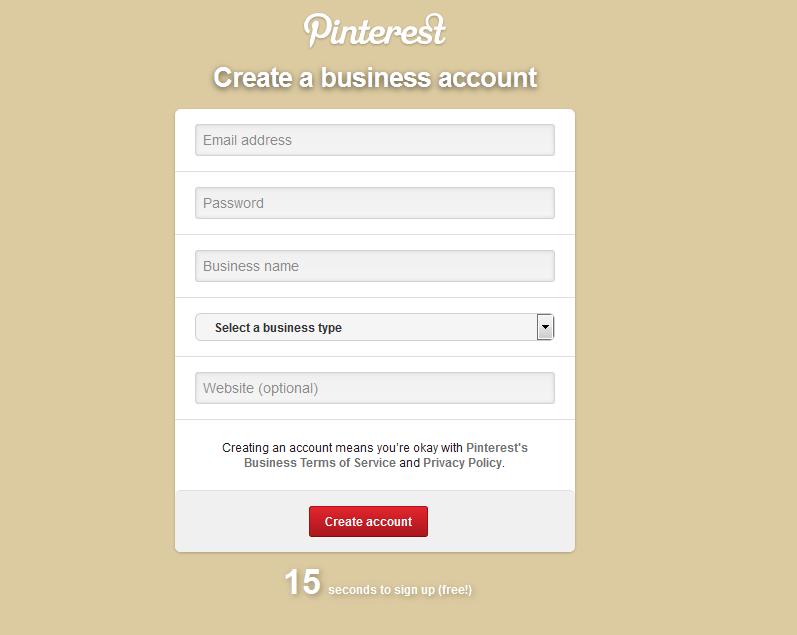 Just fill out the fields and hit the Create account button.
Your newly created account should look something like this.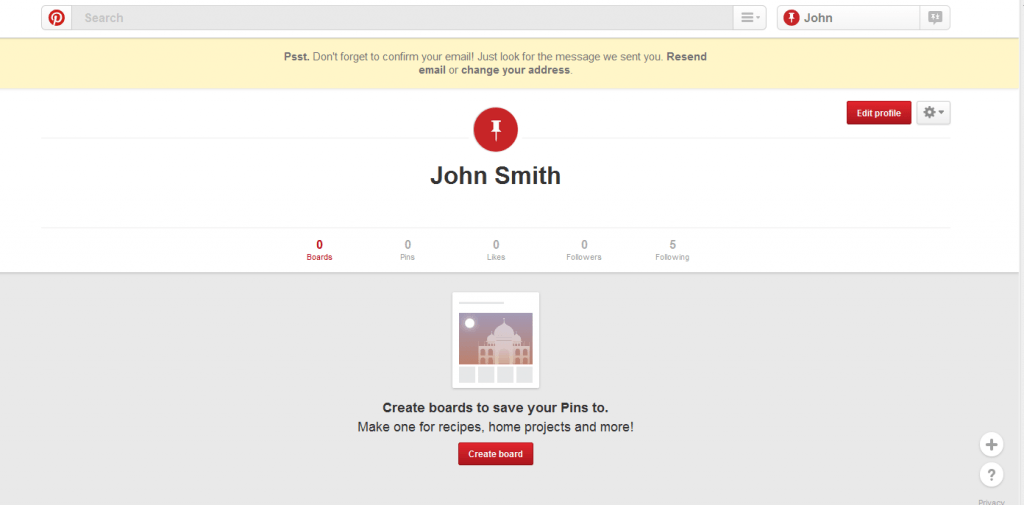 If you want to create a new board, you can do so very quickly.
Just click on Create a Board.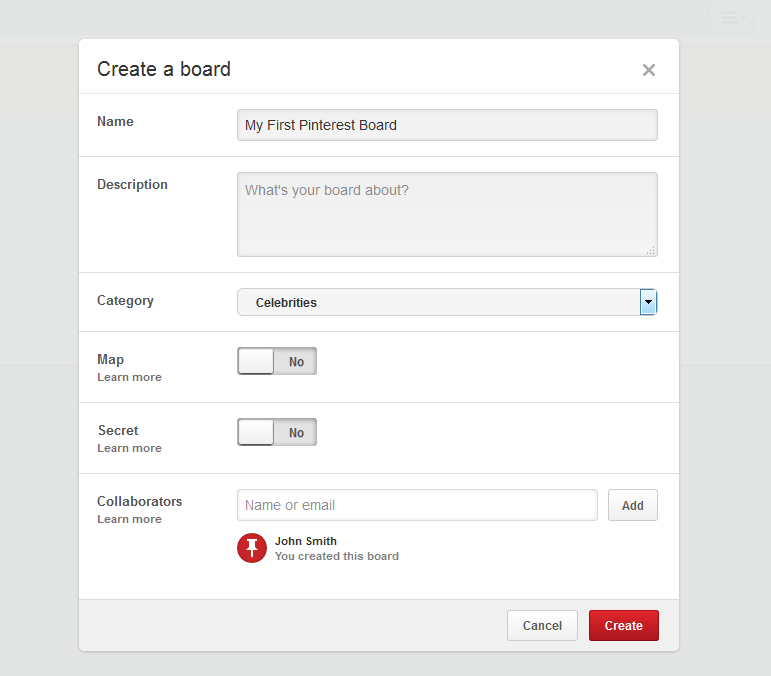 Then you'll want to Name your Board. I named it My First Pinterest Board. You can add a description now or you can do it later.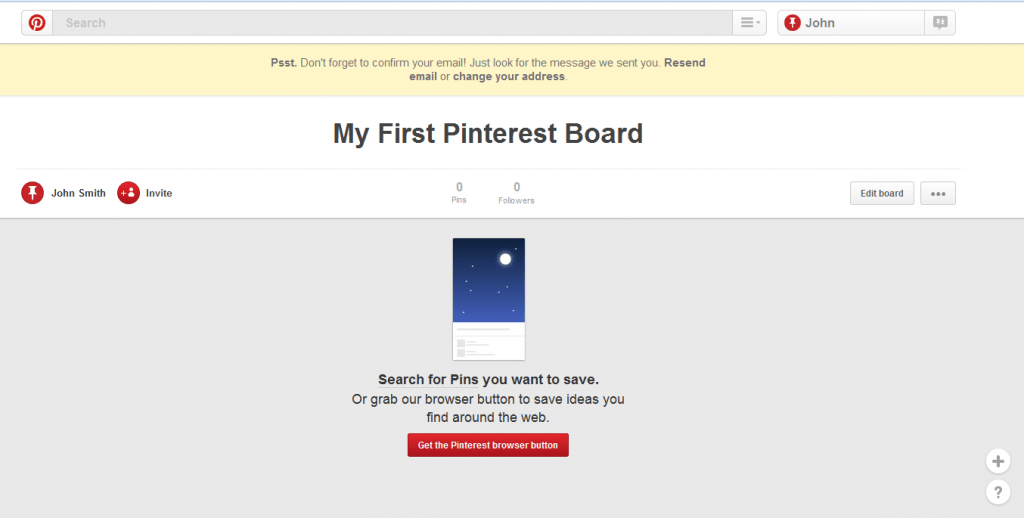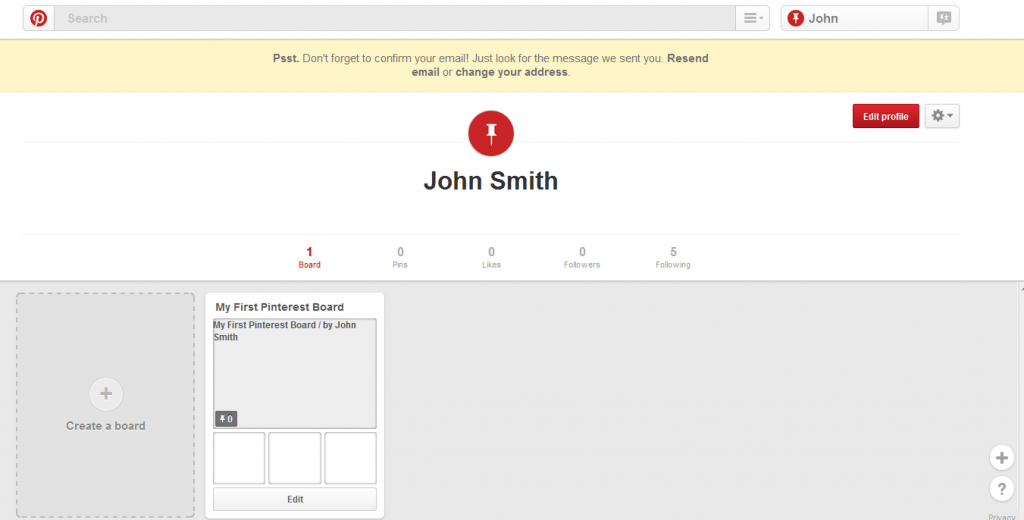 Then just click the Plus icon in the down right corner and Upload a Pin from your computer or Pin from a website.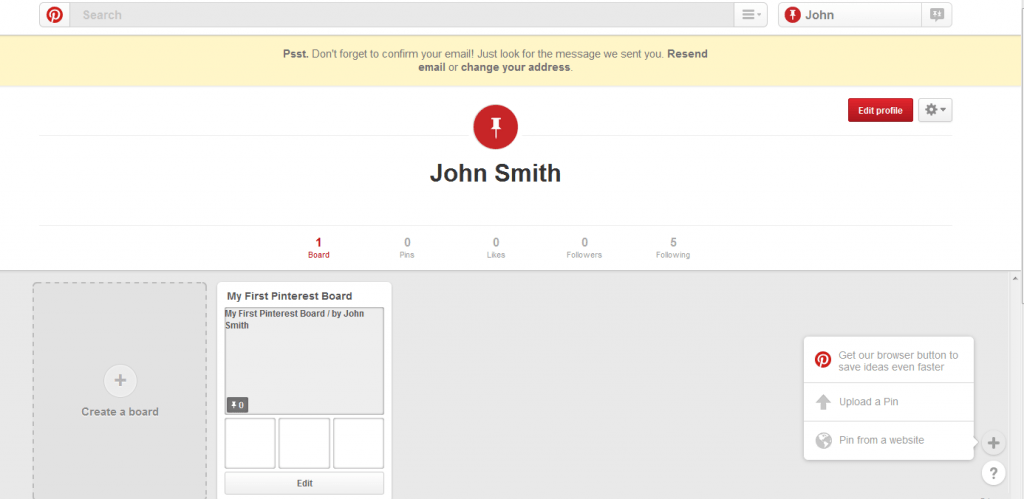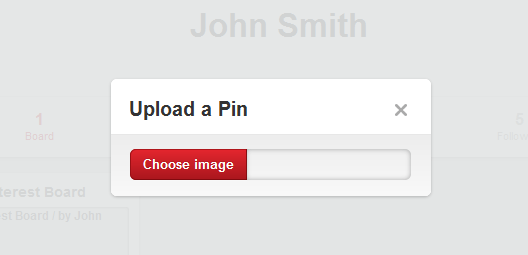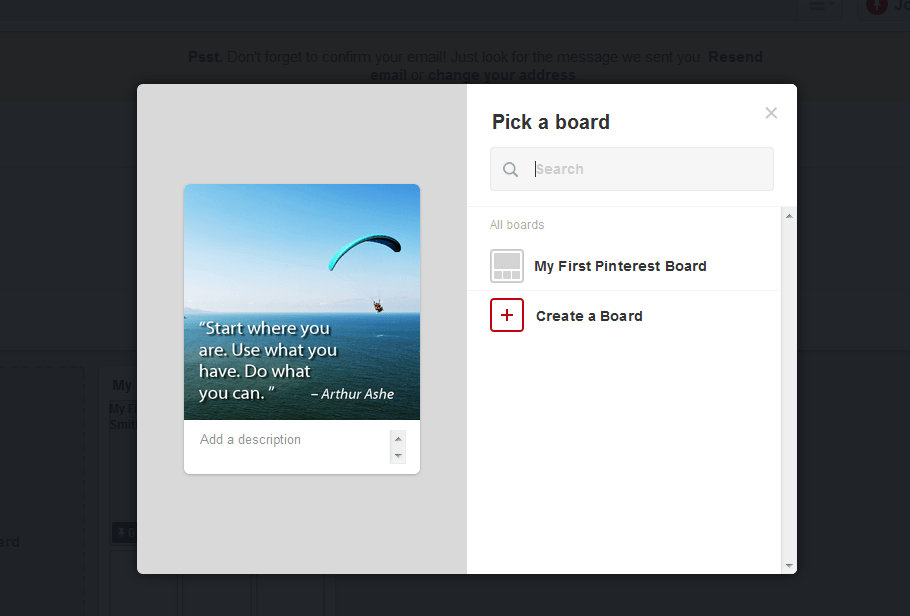 Once your image is uploaded, add a description below it. Include your targeted keywords in the description and add 2-3 hashtags.
Then just Pin it to the chosen Board and you?re done. Your first Pin is ready!
How easy was that? You can have complimentary content driving traffic to your site from Pinterest in 5 minutes or less.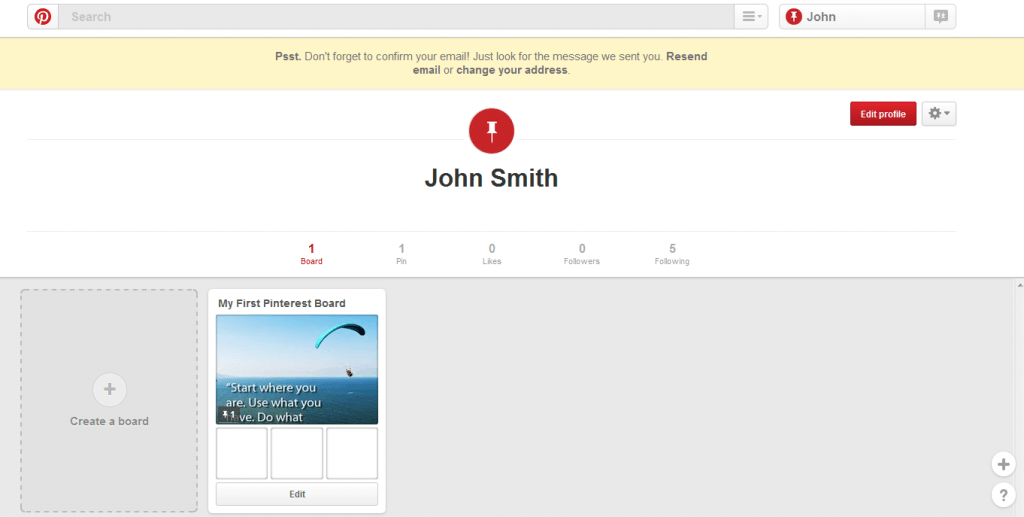 Of course you can edit everything you've just created at anytime or delete the Board completely if you decide to move your content in a different direction.
The Secret of Driving Traffic from Pinterest to Your Website
If you want to gather many followers, you should create a lot of boards and fill them up with relevant pins that are designed to create a value proposition to your targeted demographic.
What is a targeted demographic? It is the specific visitor you expect to see on your website.
This person will have specific preferences, habits, and socioeconomic preferences which set them apart.
Women between the ages of 18-34 with a household income of $50,000 or more would be one example of a targeted demographic.
The more pins and boards you have which give your targeted demographic the information they want, then the more chances there are that someone will become interested in them and will decide to follow you.
Remember, however, that quality on Pinterest is always preferable to quantity. On this platform, the value you are able to provide is what will set you apart.
Sometimes when you pin an image, you will see the option to follow boards where people have pinned the same image as you or boards with images related to the same or similar niche as yours.
In this way, you can quickly find people with the same interests that you can follow.

This may also lead you toward new demographics to target with your content to expand your audience, which will naturally expand the number of followers you have and visitors your website eventually receives.
Let?s get started by following other users of Pinterest
Sometimes the best way to begin building a community is to start following others first.
On Pinterest, here is a brief overview of the process required to follow other accounts.
#1. Use the search bar to find the groups/niches in which you?re interested
For example, if you type ?internet marketing? into the search bar, you will see pins related to internet marketing.
At the top of the page you will have an option to choose between All Pins, Your Pins, Pinners and Boards.

Let?s start with Boards.
When you click on the Boards tab, you will see different boards related to internet marketing.
You really can just start following them.
I?m always trying to follow those people who have many pins on their boards because that indicates that they are active users.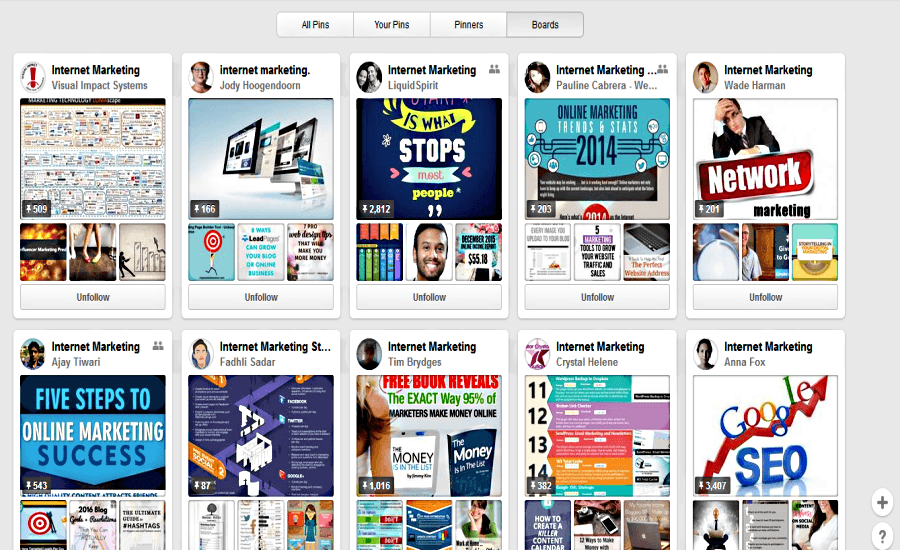 Following boards is important, but it shouldn't be the only thing you do on Pinterest.
Click on some of the boards and start following the followers of these boards.
Most of them are probably interested in internet marketing, so take advantage of it and follow them and then wait for them to follow you back.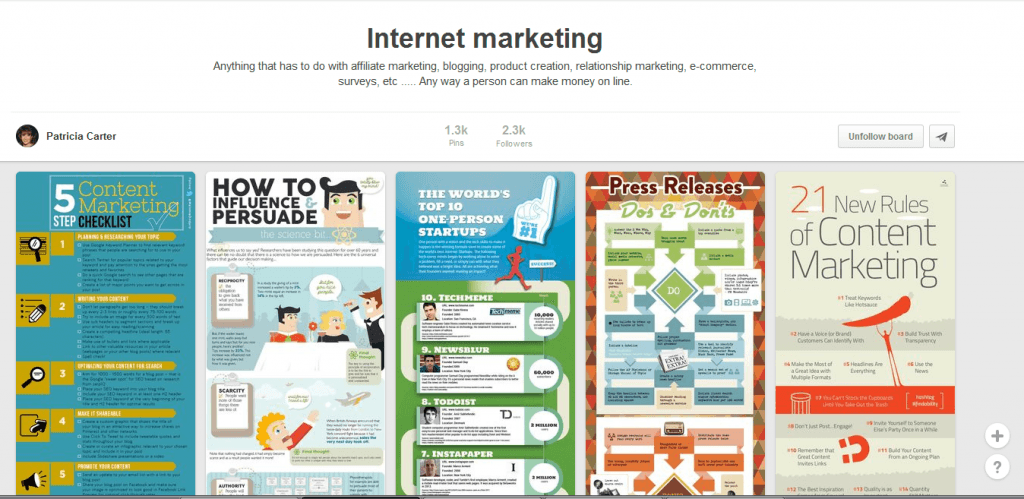 You can either click on the number of followers and start following them: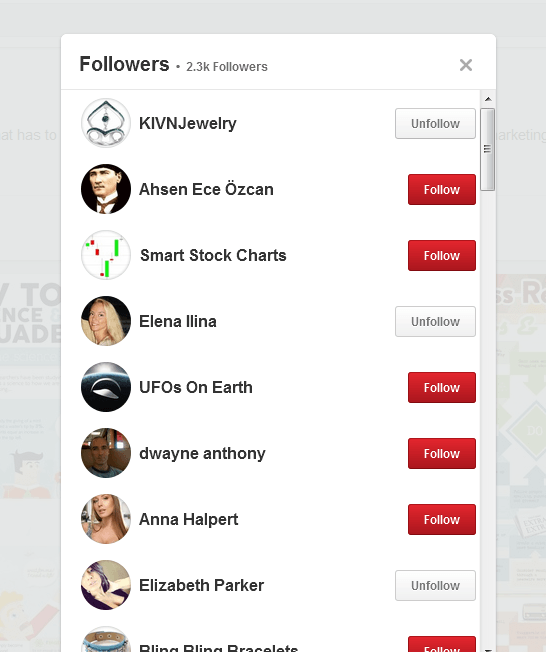 Or click on the icon on the left. Look for the appropriate board and follow the people who decided to follow that board.

Choose the board you want to follow (Pinterest Tips and Tricks) and follow the followers.
You don?t want to follow people who are interested in home decor because they won?t be interested in your pins that you will be pinning to your boards in the future.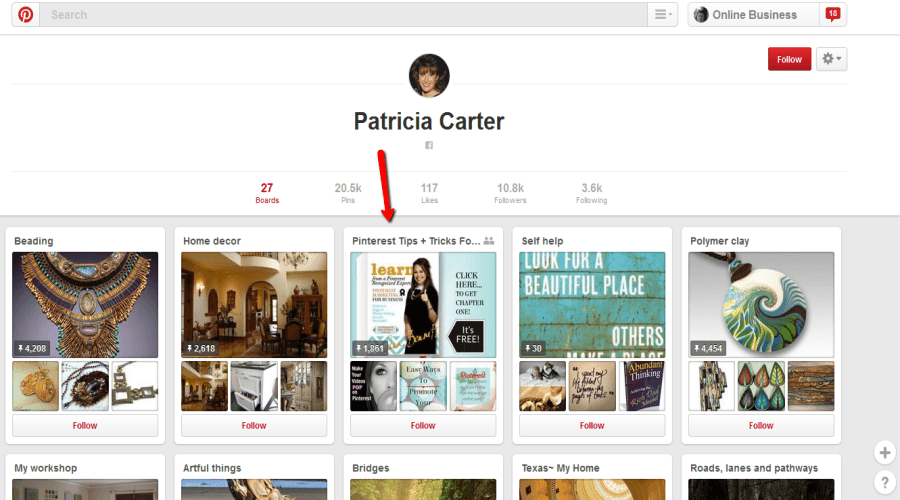 #2. Type in your keyword again and click on the Pinners tab
Now you will do something similar, but instead of clicking on the Boards tab, you will click on the Pinners tab.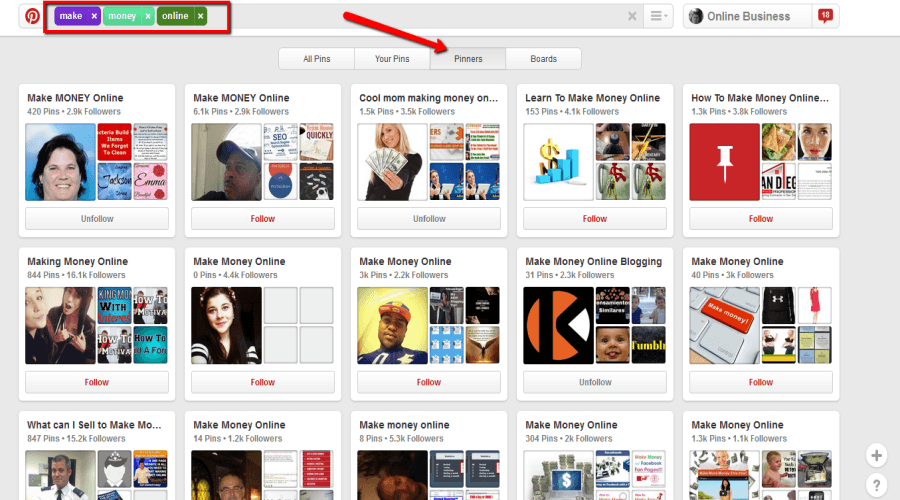 Then just choose the Pinner ? I always look for those with the highest number of Pins.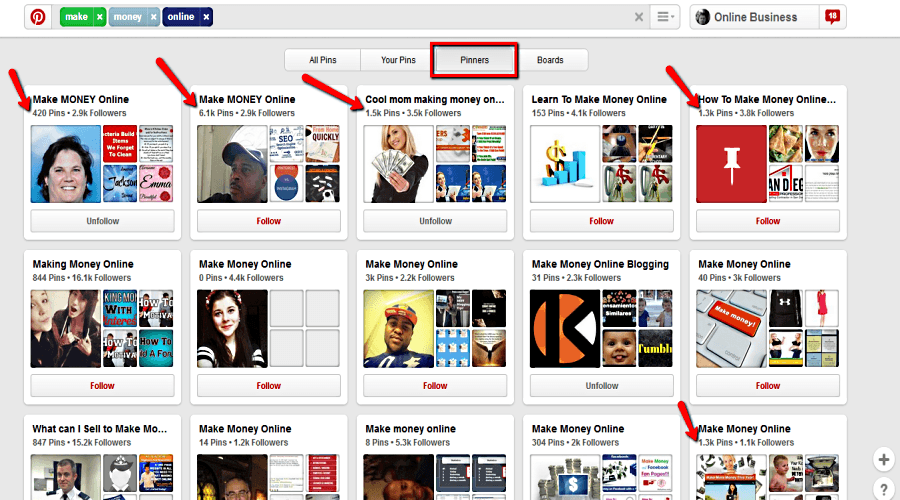 Follow all those Pinners that you find useful and then click on the Boards to start following their followers. For example: I clicked on Cool mom making money online.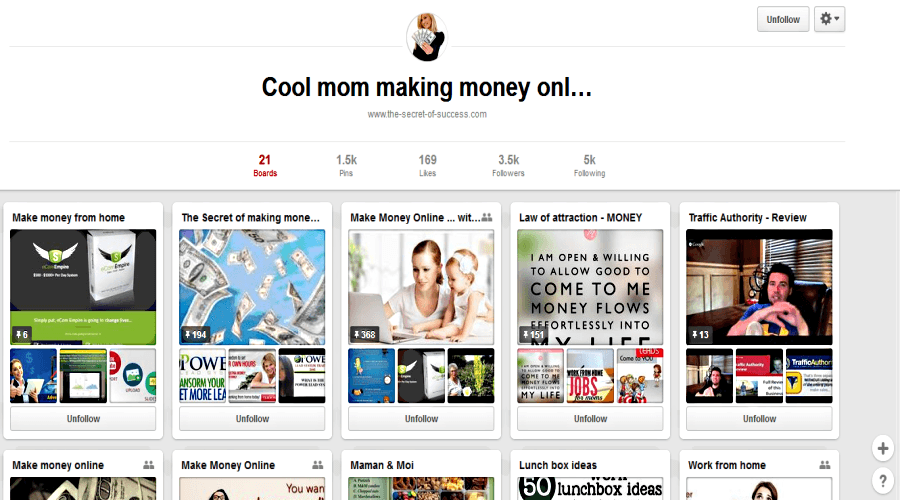 Then I click on the Followers and follow some of them.
I always pay attention to the number of Pins displayed on the given follower?s board.
It?s also important who you follow. If you follow somebody who?s interested in fashion and you're interested in internet marketing, then it?s likely that you won?t have much use for the content from such a follower.
You never know what a person's interests may be, so giving people the benefit of the doubt I feel is a best practice to follow.
Their preference might be for fashion, but maybe they have a side job where they do some internet marketing as well.
Also, don?t forget about ?liking? some of the pins. If you find a pin which you like, just like it.
It's more than good etiquette. It's a form of communication which tells the person who posted the pin that you appreciated the time they took to do so.
#3. Searching for your competitors
Another thing you can do to gain more followers on Pinterest is by searching for your competitors to see what kind of content they are posting.
If your Pinterest account is related to health and fitness, then you should look for competitors in the health niche.
I quickly found the Chance of Health & Fitness account with lots of followers, which you could follow as well.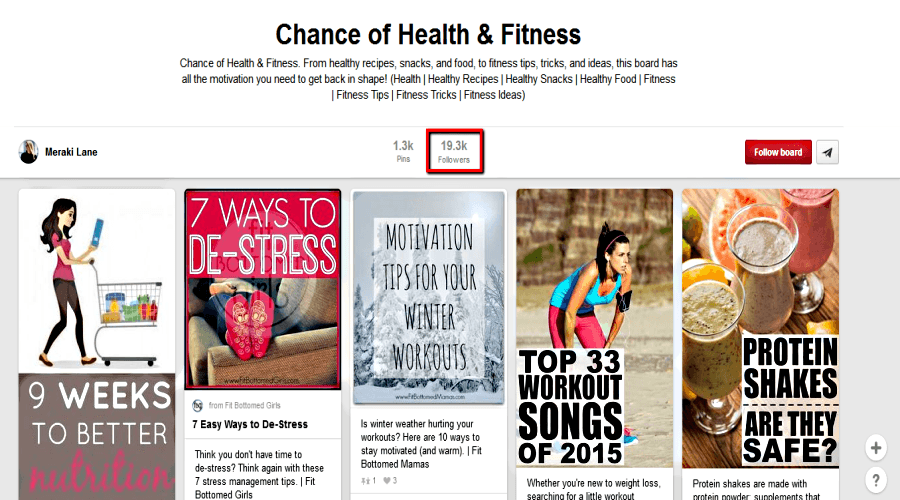 If you know of any big brands in the health and fitness niche (or any other niche that you?re in), try to find them on Pinterest and then start following their followers. It?s easy.
If you?re in the food/recipes niche, search for brands that are popular in this niche, e.g. Pinch of Yum.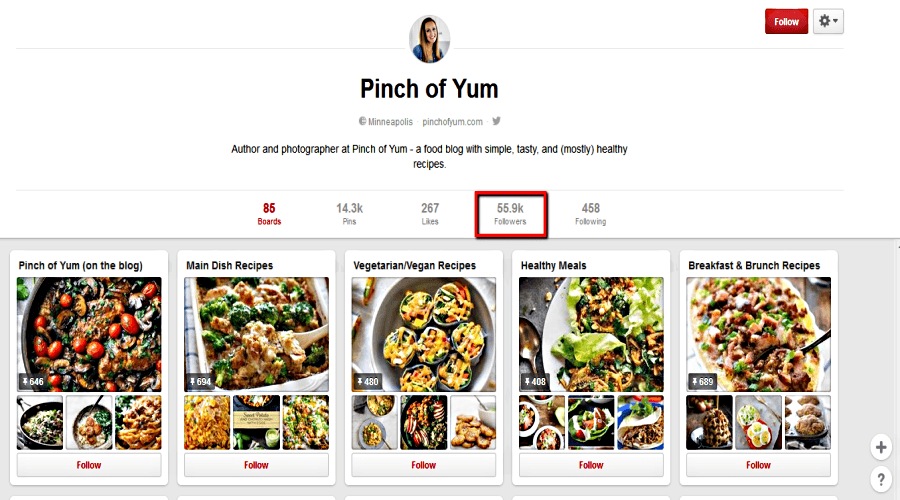 #4. Don?t focus on pinning only your own images
You should also share other people?s images.
If you come across a pin that is liked by a lot of people, then just re-pin it .
In this way, Pinterest will recommend you to the users who pinned the same image. More people will see your board, and as a result, you will gain more followers.
#5. Pin on group boards to get more exposure
If you?re just starting out on Pinterest, then your pins won?t be re-pinned much as your follower count won't be very high. The solution to this problem is to become a contributor to a group board.
What you have to do is find group boards in the niche in which you're interested and ask the owner of the given group board to invite you as a contributor.
I?ve noticed that you can find these group boards by typing ?group boards internet marketing? (or your preferred subject matter) in the Pinterest browser.
Or just type in the name of your niche and look for the boards with the proper icon indicating that it is a group board and you can become a member.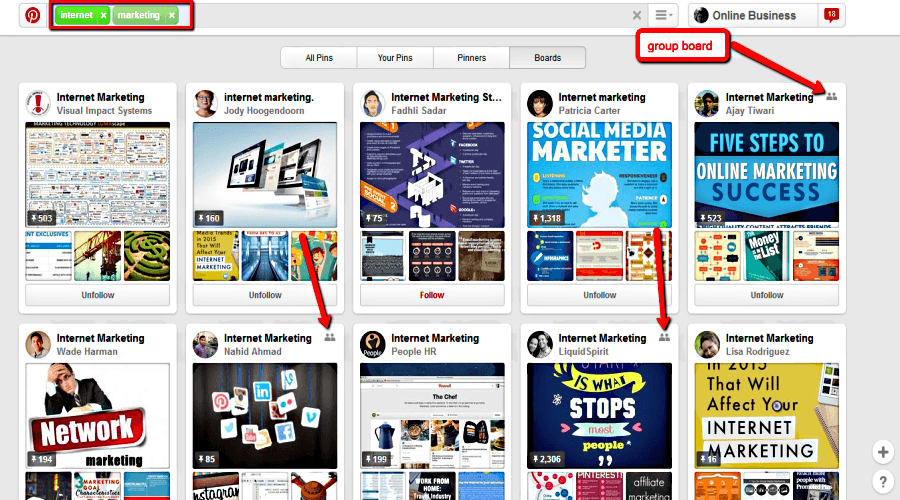 You can find many such boards on Pinterest and ask for permission to publish your pins on them.
Just remember not to publish your own blog posts all the time ? you should also publish other people?s content.
It?s a social network and too much self promotion can sometimes be taken in an unintended negative way.
The owners of such boards usually want to have as many contributors as possible just because they want to have many relevant pins on their boards.
This will help them rank better on Pinterest?s search engine.
#6. Invite your followers to pin on your board
The idea of becoming a group contributor also applies to your own boards, but in reverse.
Just as you can pin your images on other people?s boards, you can also invite your followers to pin their images on your boards.
You just need to invite them to do so. You can invite only those people that you follow and they follow you back – or you follow one of their boards.
Check who your followers are and follow them. This will make this key point easier to implement.
Once you?ve followed your followers, send them a message that you would like to invite them so that they could become contributors to your board.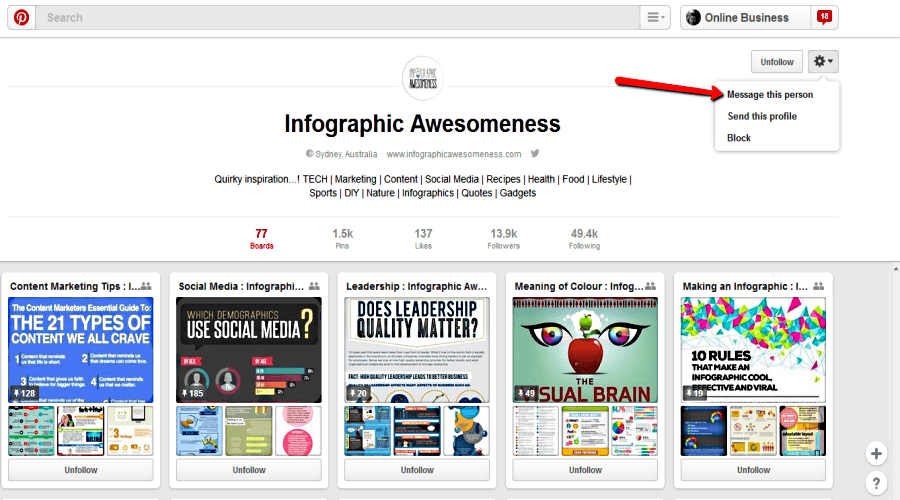 Before sending them a message, you should create a board where all the guest pins would be pinned.
Name your board, write a description for it, choose the right category and type in the name or email of the person you would like to invite as a contributor.
When they accept your invitation, they will be able to put their pins on your board.
#7. Get more followers by installing the right plugin
If you have a blog, then you should definitely try to get more Pinterest followers by driving traffic from your blog directly to your Pinterest account.
That's right! It's a circular method of marketing. Your Pinterest account generates traffic for your website and your website creates traffic for your Pinterest account.
You can create this benefit quickly by installing this plugin.
Once it?s installed and activated, you and the visitors to your blog will see a Pinterest button whenever they hover the mouse over the image on your blog. Example below: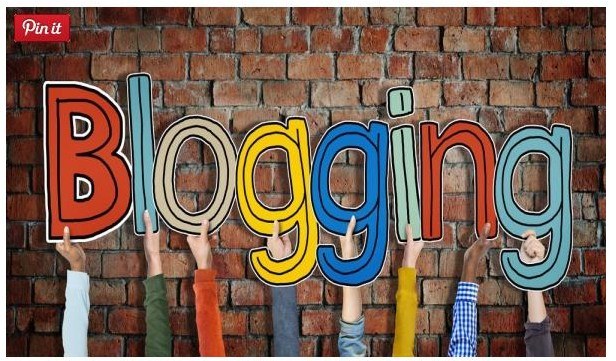 When the reader of your blog wants to Pin this image, they can do it with just a couple clicks of a button.
This allows visitors to provide more value to their family and friends as well, which creates a downstream of traffic which eventually leads right to your site or Pinterest account.
Remember to check the settings of the plugin: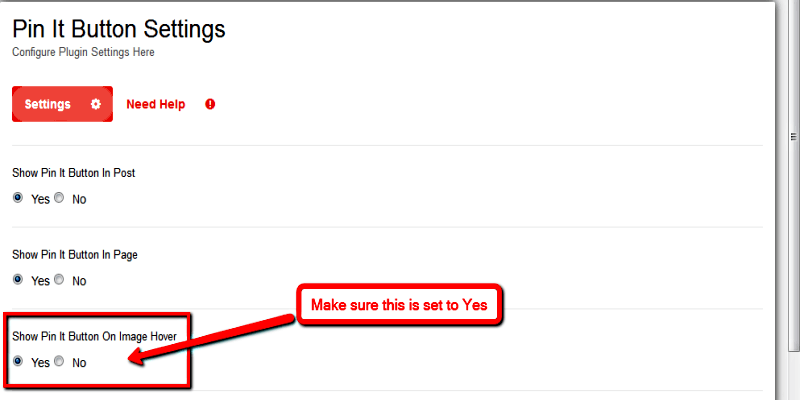 One more thing: you can place a Pinterest widget on your blog to get more Pinterest as well.
It may be more effective than just a Pinterest button because it?s bigger and draws more attention to itself.
How to install such a widget? Just go to this page: developers.pinterest.com and do the following: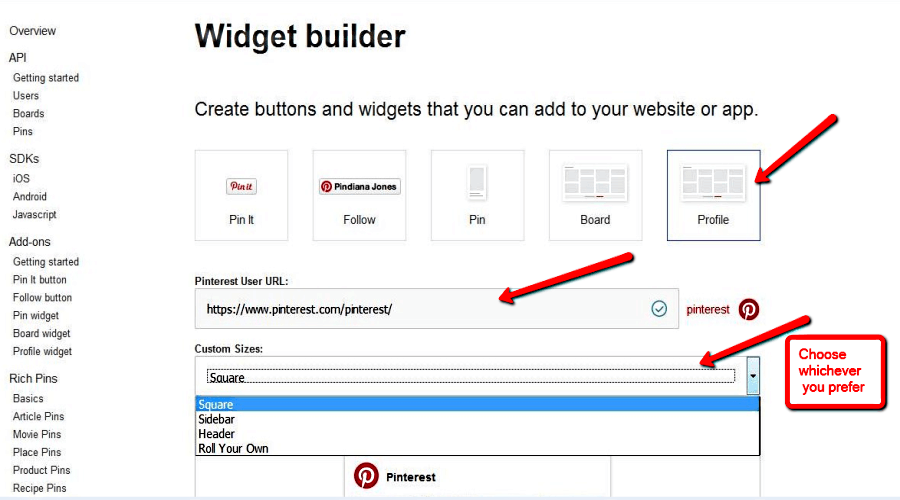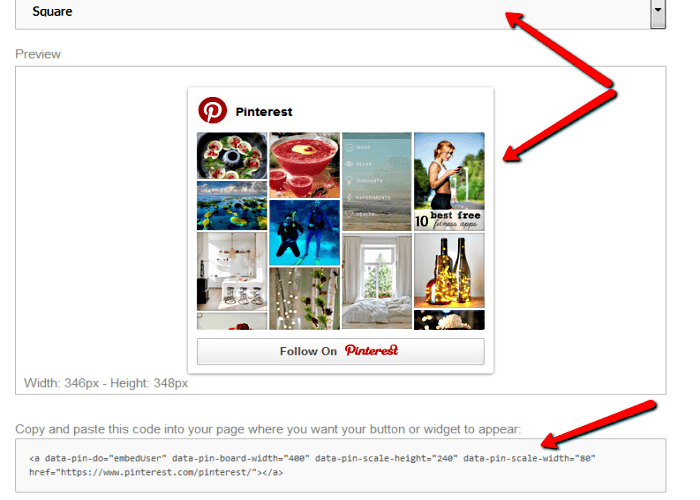 It?s fairly easy to become successful on Pinterest and to drive traffic from it to wherever you want. Why? Because you do not need to follow certain people to be able to see their pins.
It?s different with other social media channels.
On Facebook or Twitter, for example, you need to follow somebody or like their Page to see all of their content.
If you go to Pinterest and type in your keyword, e.g. online business, you will see four tabs underneath: All Pins, Your Pins, Pinners, Boards.

The pins that you will find in the All Pins section and Popular section are usually the ones that have been repinned, liked, and commented upon many times.
You can also repin them or like them or leave a comment underneath.
What I?m driving at here is that if one of your pins becomes popular, then it will be seen by everyone on Pinterest who happens to be interested in the given niche even though they do not follow you and you do not follow them.
That is a tremendous advantage which only Pinterest provides to this extent.
Thousands of people will be able to see it.
If you put a link to your site in the description area underneath the picture, then it?s also possible that many people will click through to your website to find out more.
(Always remember to choose the right category when creating the board and use hashtags in the description under your images ? this way it will be easier to find your pins.)
17 Helpful Pinterest Tips To Get You Started Right Now
In the profile image, choose a photo of yourself. I wouldn?t use a website logo or any other image that doesn?t depict me because Pinterest is a personal network. I have a feeling that people prefer to connect with the real person rather than a brand.
Share often. The more you do it, the more people will see your pins and the more traffic you will get to your website because some folks will click on the link underneath the image.
Promote your Pinterest account on other social media channels: Facebook, Twitter, LinkedIn, Google Plus – this will help you to gain more followers on Pinterest.
Your most popular boards should be at the top of the page. You can easily drag them to wherever you want on your Pinterest page. Why? Because you want people to see them immediately after they visit your brand page.
One board, one topic. Always share relevant pins on your boards. If the topic of your board is Best Dinner Recipes, then do not share the images of your pets there. It?s a fast way to lose your followers. Stick to your topic.
I would follow around 100-200 boards/pinners at one go. Some of them will follow you back and some won?t. If you follow too heavily, Pinterest will not let you follow any more boards or pinners at the given time. You will see such a notice:
If you have just created your Pinterest account, then you can pin a lot, but if you already have a lot of followers, do not go crazy with pinning new content 20x per day. It may irritate your followers. 5-10 new pins a day is usually fine, but listen to the feedback your followers give you.
If you want your images to look good, then use the proper sizes. Go to AuthorMedia to find out more about this key point. On the same page, you will also learn that ?the most clicked on image size are the long skinny pins. … They drive traffic because they require you to click on them to see the full size.?
In the pin description, use a call-to-action to inspire action. Let people know that they should click on the image. This should help you drive more traffic to your blog from your pin. It sounds redundant, but it works. Followers follow instructions. Without them, they tend to leave more than click.
Choose great images for your blog and then pin them to your or others? Pinterest board. When your images are interesting and of a high enough quality, then the more likely it will be that Pinterest users will re-pin them.
To create images you can use image creation tools such as: Canva, Snappa, Pablo & Design Wizard.
If you can afford it, then get someone to create an infographic(s) for you. People love sharing them and they can be a source of traffic to your blog for a long time. Original infographics retain a lot of their visitor value over time as well.
Use Specific Social Notification Bar. This plugin will enable a bar to appear at the top of your website. In this notification bar, you can place any message you want for your visitors from different social networks: Facebook, Twitter, Google Plus, LinkedIn and Pinterest. Very useful. Check out the link above.
Use ViralWoot to schedule your pins. You can schedule 100 pins for free every month. Thanks to this tool you can be away from the computer and still promote your posts on Pinterest.
Find out what your competition is doing and what is working for them ? use it to create your own popular boards.
If you have a list of subscribers, then send them an email about your Pinterest account and spread the word about your pins.
According to Curalate, images without faces are re-pinned 23% more often than the ones with faces. For this reason ,you should pin images without faces if you want them to get re-pinned by others.
[quote]Curalate examined more than 500,000 images posted by brands to Pinterest and found that those without faces were more popular with viewers. While this isn?t always the case with visual content in social media, the theory holds true for Pinterest. Facebook, for example, is a network of people and Foursquare is a network of places[/quote] Source: sproutsocial.com.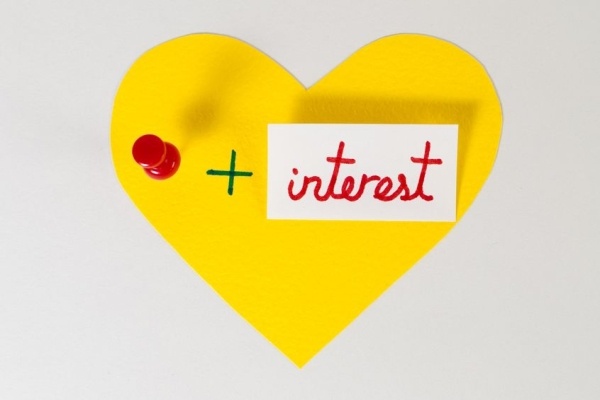 In Conclusion
Pinterest is a real game changer in my opinion.
Those who focus on this social media channel as a traffic source won't regret their investment into it.
It?s fun, it?s easy to get started, and pins can go viral to bring a lot of visitors to your site very quickly.
All Pinterest users can see your pins and boards and they don?t have to be your followers to access your content.
It?s a visual tool and people like looking at nice images.
Many people seem to ignore Pinterest, yet this network is the second largest source of social media traffic to online stores and it has the highest average order value of all of them.
Ignore Pinterest at your own risk.
If you follow the steps highlighted in this post and remain consistent with your Pinterest strategy, you will have a great chance to experience a surge of traffic to your website on a consistent basis.
When this happens, you will not only grow your list of subscribers, but you will also turn more visitors into customers. And this is what it is all about.
Is Pinterest part of your social media strategy? If it is, how is it going for you? Do you know any other ways of driving traffic to your website from Pinterest???
[box style="rounded"]If you enjoyed this post about driving traffic from Pinterest, please consider sharing it[/box]