If you want to make money with your blog you need to sell something on it. The easiest thing to do is join an affiliate program and then promote different goods in exchange for a commission.
Of course you can always create your own product, however, if you feel that it is too early for you to create something yourself, then the affiliate programs are the best way to go.
The question is: How to monetize your blog? Well, it?s pretty easy.
In order to do it, you need three things: lead magnet, opt-in boxes and traffic.
What is a lead magnet?
It is a piece of content that solves a specific problem of the given group of people in the given market. You give it in exchange for an email address.
It should be something that your subscribers can consume within a few minutes. They are looking for immediate gratification, they opt in because they want something now, give it to them.
Don?t give them a seven-day course or a 50-page ebook. These are not good lead magnets. They are too long. Many people think that ebooks are compelling lead magnets, but they are not.
It is better to give away a one-page report than a 10-page ebook. On the same blog you can offer several different lead magnets. It depends on how many opt-in boxes you have on your blog.
The primary job of a lead magnet is to turn your traffic into leads. You want to convert traffic into subscribers and subscribers into customers.
Lead magnets can take different forms. It can be a report, a video training, a handout, a free physical product, a discount coupon/offer, free software.
Remember to offer a very specific benefit or solution, e.g.: I?ll show you how to get 1000 new subscribers within a week.
Keep it simple, e.g.: 10 simple steps to become a great cook.
Deliver real value and deliver it quickly. For example if you prepared a few videos as a lead magnet, deliver them over a week rather than over two weeks.
Your lead magnet should also deliver fast results, e.g.: Follow these 5 steps and you will see almost immediate results.
Make the big promise: Offer the solution to your subscribers? biggest problem, e.g.: Here?s how to keep fit without working out and without dieting.
To learn more about lead magnets, please click the following link: what is a lead magnet.
Where to add lead magnet opt-ins on your page

There are different places you can put an opt-in box for your lead magnet.
Place one in the sidebar.
Place one at the bottom of the article (or even within the body of the article).
Use an exit popup (people do not like it, but if it works, you should use it).
Use an opt-in that stays at the bottom of each page/post and use a lightbox opt-in/pop up which appears when a visitor enters your site (after 5 seconds for example).
You can also add an opt-in page link to your navigation bar, e.g.: Click here to receive your free gift?or Start making money online etc. When somebody clicks the link they will be taken to a landing page.
The more places you put your opt-in box on your site, the more chances you have to get a new subscriber.
You can also create a lead magnet landing page and drive your traffic directly to it.
Here are some of the best opt-in boxes that you will find on the market: opt-in boxes.
Convert traffic into subscribers and subscribers into customers
OK, once you have your lead magnet ready and your opt-in boxes placed on your blog then you are prepared to convert traffic to subscribers.
However once someone opts in to your list, what should you do then?
Some people have big lists of subscribers, but don?t know what to do to sell them something. It?s not enough to get a subscriber on your list.
Of course you could start sending them offers right away day in, day out, but such a tactic will burn out your list quickly.
Some people say you should send emails to your list three times a week. Some others claim that five times a week is OK.
Good strategy is to give your subscribers something valuable and always, in each email, drive them to your main offer. This way you will kill two birds with one stone.
On the one hand you will provide value and on the other hand you will try to sell something without being regarded as pushy.
In the 1st email to your list it?s good to show your personality, tell your subscribers something about yourself and why you chose this particular niche market.
In the 2nd email you can give them some valuable tip (the tip will depend on the niche you are in) and at the same time put a link in the email to your offer.
On the 3rd day (3rd email) you keep sending content to your list. You?re giving them valuable tips, but always remember to drive them to your main offer.
Use ?P.S.? at the end of the email to drive your subscribers to the landing page with the offer.
On the 4th day you can take a break and do not send any emails.
On days 5 and 6 you can still drive your subscribers to the same offer by giving them more content about the same thing or just summarize the previous emails.
If you notice that your subscribers are not interested in what you have been promoting throughout the week then start promoting something else, have them sign up for something different.
So again, you provide some good tips in your emails and then drive your subscribers to a different offer.
On day 7 you can take a break and do not send any emails.
So altogether you send 5 emails a week and don?t send anything for two days.
If you feel that is too often, then just send emails three times a week. It is all up to you.
Remember to give some value in your emails and then put a link at the bottom to take subscribers to your offer.
Of course sometimes you just send a promotional email in which it is clear that you are trying to sell something and make money, but don?t do that too often ? it will stop working.
If you just keep sending emails in which you are telling your subscribers: BUY MY STUFF and don?t give them anything valuable in return, in the long run it will not work.
Another strategy is to send 2-3 emails which give some value (no links to purchase anything) and then you send the next email (4th email) with the offer.
Then again you send 2-3 emails providing value and in the next one you try to sell something that is related to what you have been talking about in the previous 2-3 emails.
Some marketers try to promote one product for one week, then another product the next week, then another one the third week and so on.
So they pick a product, write emails with content, try to sell something for a week and then the next week they do the same offering something different.
Of course to be able to send emails to your subscribers you need to have an autoresponder.
Please check the following link to find out what are some of the best autoresponders today: what's the best autoresponder.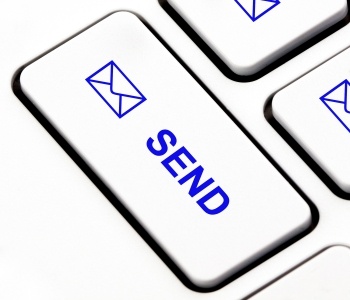 Tip: In the first or second email you can try to sell them something cheap; something that costs $7-$20.
This way you will separate clients from mere subscribers who are just on your list to read your emails, but they will never buy anything from you.
What?s more, those who buy a cheap product are far more likely to also buy a more expensive product in the future. Or, if they purchase something for $7 you can immediately try to sell them something more expensive, you core product costing, say, $100.
It is because when somebody takes action to buy something cheap they are also ready, at the given moment, to buy something more expensive. Take advantage of it.
[box style="rounded"]If you enjoyed this post, please consider sharing it[/box]
———————————————————————————–
Image from Pixabay
Image courtesy of ddpavumba at FreeDigitalPhotos.net?(Website Traffic)