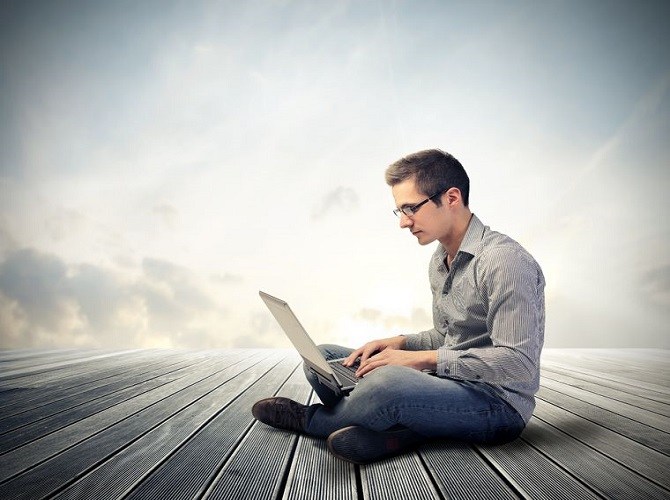 You?ve probably heard a lot of times that it?s possible to make money online. You?ve heard of bloggers, video marketers or ecommerce store owners making thousands of dollars a month without leaving their home.
And then you started to wonder: How can I do the same? How can I achieve financial freedom? How can I do it if I don?t have my own products that I can sell to people and I don?t have the right skills in order to achieve success in this field?
The good news is that you don?t need to have any of your own products in order to make an extra income on the Internet. Why?Because in this day and age you can make money by selling other people?s products online and live comfortably doing so.
Of course it doesn?t mean that it?s easy.It usually takes some time before you make your first sale, but as you gain more experience over time then it becomes easier.
Everyone starts from scratch and with no experience, so don?t worry that you don?t know anything about selling stuff online ? you will learn everything.
In this blog post I?m going to tell you about the most straightforward model of earning money in the cyberspace. This model is called affiliate marketing and it lets you sell other people?s products online and make a living doing so.
Is Affiliate marketing profitable and is it for beginners?
If it wasn?t profitable then it wouldn?t be so popular.
If it didn?t work then many companies wouldn?t start their own affiliate programs, but they do.
Affiliate marketing is popular not only among the beginners who are just starting out online, but also among many veterans who have already made millions online.
In simple words, affiliate marketing is for everyone.
Why do so many people choose affiliate marketing as a way of making money on the Internet?
Because it?s simple. This is how it works.
If you want to start selling t-shirts online then you just need to find a store with t-shirts, then you sign up for their affiliate program (if they have one) and then you promote your affiliate link in different places in order to make as many sales as possible.
If you manage to make some sales then you receive a commission for each sale.
For example, if the given product, in your case it?s a t-shirt, is sold for $100 and the commission is 50% then you earn $50 for each t-shirt that somebody buys through your affiliate link.
Affiliate marketing is something that most people choose to do when they start their adventure with making money online and it?s perfect for beginners like you.
I think the most popular channels through which you can start selling products as an affiliate partner are Amazon and Clickbank.
I?m not saying they are the best ones, because you can join affiliate programs of many different companies and start promoting their products for great commissions, but I know that a lot of people sell different things through Amazon and Clickbank.
Is affiliate marketing worth the effort?
Affiliate marketing is absolutely worth the effort. To make this effort profitable, however, there are some simple steps that should be followed.
You must choose quality products from good companies that have been actively selling for quite some time. Why is it so important?
Because if you start promoting your affiliate link all over the Internet and then the company decides to shut down their affiliate program, all your affiliate links will stop working and you will have wasted your time and made $0 from the effort.
For this reason, it is essential to choose the products and the companies wisely.
New companies may offer you high affiliate commissions because they want to break into the market or gain publicity; however, if something goes wrong, they will disappear from the market and together with them your affiliate links.
This is one of the reasons why it?s always better to have your own products rather than try to sell other people?s products online.
If you sell your own product, such as an ebook, then you not only keep 100% of the profits for selling it, but you get to decide when and where to sell it too.
In the case of an affiliate program, you have no control over it. That is why, sooner or later, everyone who is trying to make money online should think about creating their own products.
Whether you have your own product or not, affiliate marketing is still worth the effort and you can make some good cash selling someone else?s stuff on the Internet without worrying about packaging and shipping.
Look at what people who have been online for a long time are doing.
Although they have their own information products such as an online course, they still promote other people?s products to earn commissions at the same time.
Is affiliate marketing worth the effort? Absolutely. Just make sure to choose quality products from good companies and you should be fine.
Is affiliate marketing a good business?
In general it is a great business, but your success depends on your skills and determination.
It?s always better to pick more expensive products that will allow you to earn bigger affiliate commissions for each sale.
But as always there are two sides of the same coin.
By promoting and selling more expensive products you can earn more money faster, but it may be more difficult than selling cheaper products.
If someone has to pay $500 they will think twice before they make a purchase and probably they won?t buy it the first time they see it.
So selling such an expensive product may require more work on your part, e.g. sending follow up messages to your subscribers several times or promoting the given product more heavily with Facebook ads.
Whereas with cheaper products that cost, say, $50 it is not so difficult to sell them, but of course the commissions are substantially lower so you need to sell more items.
I think if you?re a beginner you should focus solely on promoting cheaper products and then, once you gain more experience, move on to more expensive ones.
However there are no fixed rules here, if you know that you can sell a lot of cheap products then go for it, you will still make a lot of money.
Some experienced internet marketers say that it?s always better to sell more expensive products because promoting cheap and expensive products takes the same amount of work and you make more money by selling the latter. The choice is yours!
Is affiliate marketing saturated?
No, not at all.
There are new products and new affiliate programs created every day, there are thousands of niches to choose from and in each niche you can find an affiliate program.
Some people think that you can make money only in the ?money? niche by promoting products that show how to start an online business.
But it?s not true.
Although the ?make money online? niche can be very profitable, because who doesn?t want to make more money, it is also a very competitive niche and you will have to work harder in order to achieve success in this particular niche.
Fortunately there are many other niches which can be profitable and they are not as competitive.
If you?re interested in fishing you can start a blog about fishing; if you?re interested in gardening you can start a blog about raising vegetables and fruits; if you?re interested in dogs then choose a dog niche and try to make it work for you.
Another reason why affiliate marketing is not saturated and probably will never be is because each year there are more and more people buying stuff online and it doesn?t look like it was going to change in the coming years.
If you would like to start selling other people?s products online, but you?re afraid that you?re too late to the party, then you should know that now is the perfect time to build your online business because the market is growing – take advantage of this trend.
In a few years? time you will thank yourself for starting today.
Affiliate programs with recurring commission
This is what needs to be considered when looking at the idea of a recurring commission.
Is it better to sell one product worth $100 and then wait until someone else makes a purchase so that you could earn another commission?
Or is it better to sell something worth $100 just once, but then receive a commission every month from the same buyer who is purchasing the same item at $100 every month?
In most circumstances, it?s better to receive commissions every month from the same buyer.
Personally, I always prefer recurring commissions, even if it means I make less money.
Recurring commissions give you incoming revenues that are stable.
Instead of a quick infusion of cash from a single commission, you receive long-term security.
That is why you should always look for recurring affiliate programs thanks to which you will have a steady income each month.
There are many recurring affiliate programs in different niches, for example in the internet marketing niche you could promote an autorseponder, or a keyword research tool, or any online course that lasts, say, 12 months and you need to pay for it each month for the whole year.
Imagine that you sign up for 5 different recurring affiliate programs.
Some time later each of them is making you $200 on autopilot, which means that you don?t have to do anything to earn $200 a month.
5 x $200 is $1000 in passive income.
I think this should encourage you to look for affiliate programs with recurring commission.
Where to learn affiliate marketing?
If you?re just starting out online you probably have a lot of doubts about whether it?s for you or not.
You would like to try your hand at affiliate marketing, but you?re afraid that you?re doomed to failure due to the lack of skills.
But don?t worry, if you?re willing to learn you will acquire the proper skills.
Making money online, including affiliate marketing, is not easy especially if you don?t know what you?re doing.
With the right knowledge you can make faster progress and avoid making mistakes that could otherwise discourage you from working on your online business.
I think the most popular way of selling products as an affiliate marketer is through your blog or videos.
All you have to do is just create a good blog post or a video and then try to drive as much traffic to it as you can.
If you?re interested in learning more about video marketing then check this out.
However if you think that blogging is something you would like to focus on then I recommend trying out Wealthy Affiliate.
It?s a great place for all newbies who want to learn how to make money blogging.
Once you join (and you can start for free and remain a free member for as long as you wish) you will get access to the tools, training and support.
In other words everything you need to become a successful affiliate marketer.
There is no one way to sell other people?s products online and make money.
My favorite method is promoting anything through a website.
I pick a niche, then I look for affiliate programs related to that niche, and then I create content within which I put affiliate links.
It?s a simple process, but it requires work.
If you?re just a beginner it may seem to be difficult to you, but it?s not magic and you can learn everything.
In order to start your education today and create a passive income online, ?click here.
You may also be interested in:

1. Alternative Careers For Journalists 

2. Jobs For Introverts Without a Degree