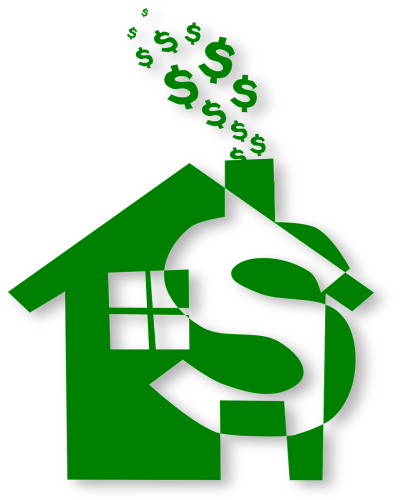 The dream of many people is to get out of the 9-5 daily grind one day and create an income that works around their lifestyle.
One of the easiest ways to accomplish this goal is to create a home-based business that focuses on their talents and gifts.
It is very possible for someone to create a passive income in 12-24 months that is equal, if not more, than their current income today while putting in some part-time hours.
If you want to know how to earn an extra income from home, then the first thing that must be recognized is the fact that there are no shortcuts available here.
You have to work your way to the top, no matter how awesome your talents and gifts might be. Without sweat equity, you will have no equity in your home-based business.
Once you plan for the hard work, you'll be able to take advantage of the numerous opportunities that are available right now thanks to the modern internet.
#1. Blogging With a Purpose?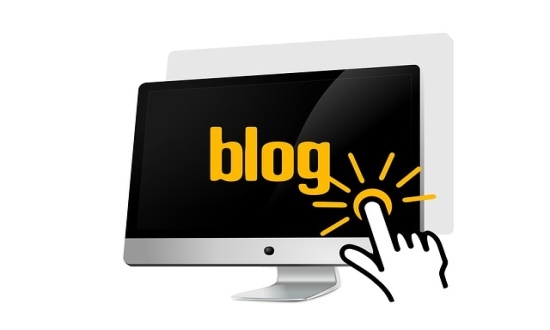 Many blogs today don't generate a penny worth of revenues, even though some of them have been updated consistently for 2-3 years or more.
The first option that many ?make money? articles offer is to start a blog and offer some sort of valuable expertise. Although blogging can help to make some cash, your odds of having natural identical triplets [1 in 1 million] are better than earning a full-time income from a basic blog.?
Blogging does work, but you must be blogging with a purpose.?
Just adding content to a blog randomly isn't going to help. Talking about your personal life might attract family and friends, but the average visitor isn't going to care.
You need to pick a topic that you're passionate about and then flood your blog with the expertise that you have.
Let's say that you're very passionate about cooking. You've got to go beyond general observations about cooking to be successful. You need to pick a theme ? like creating restaurant quality dishes at home for $10 or less.
Give people recipes and instructions on how to save money and cook like a pro. Offer video demonstrations. The real money won't come from blog impressions or advertising revenue here. It will come from sponsors and advertisers who will eventually notice your brand and want to support it.
#2. Affiliate Work Works… Sometimes?
Affiliate programs on the internet are like a modern version of the classic MLM sales position. When you sign up to become an affiliate, you are responsible for selling the product or service to the customer segments that you can reach.
You'll receive money for each sale, but so will your upstream ? the people who brought you into the program. If you refer others to the affiliate program, then you'll create a downstream that can also generate revenue.?
Far too many affiliate programs are focused on building downstreams than building sales.?
You can't earn an extra income from home if all you're doing is building a downstream network that never sells products to customers. You need something to sell that people love, want, or even demand.
One of the best solution for this is easily Amazon.?
The Amazon affiliate program is one of the most mature in the industry today. Affiliates can sell virtually anything that is on the site and earn a commission for that sale.
This lets you be able to pick and choose the products you want to represent, talk about them, or provide your own expertise or reviews about them. Every time a click-and-buy happens, you get paid.
?
#3. Provide At-Home Supports?
Telecommuting is becoming very popular in a number of industries, but the problem with being a telecommuter is that you've still got to put in the 9-5 daily grind.
You can do it with sweatpants and a robe on while daytime talk shows play on the TV in the background, but you're still online from 9-5.?
This is why becoming a medical transcriptionist can blend the best of both worlds together for those who are trained in the practice.??
How do you get trained to do this? You'll need either a certification or degree in most locations. You'll also have to be able to know medical lingo and be fairly proficient in typing.
If you meet those qualifications, you'll be able to work full-time on your own time and potentially make $50k with health and vacation benefits.?
If you got your 4 year degree in nursing, the benefits are even better. The growing field of Telehealth needs nurses who can consult with patients online about their specific medical concerns.
These RNs can then refer patients to doctors or provide instructions for self-care. Nurses in this position can clear $75k per year and never have to step foot out of their home to do so.
?
#4. Use Your Knowledge?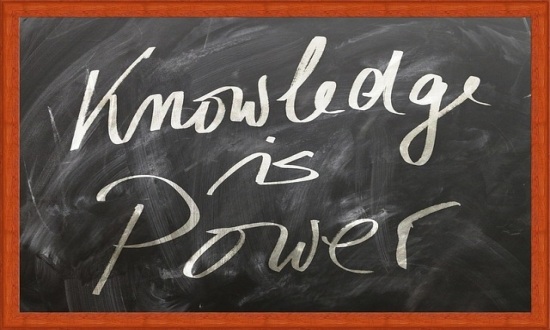 What could $1,200 per week provide you? There are numerous knowledge-based skills that are in-demand right now that can help you earn an extra income from home.
This includes writers, photographers, computer programmers, graphic designers, virtual assistants, and even tutoring or teaching.
With an established reputation and consistent work of high quality, part-time work can turn into full-time work in 6-12 months pretty quickly.?
The benefit of using your own knowledge is that your income potential is as high as you want it to be …
For teachers and writers, this can mean a salary of over $100,000 if they are willing to put in the hours.?
The dangers of working at-home in knowledge-based professions or freelance work is that many people are willing to take a discount on their salary for the privilege of staying at home.
It isn't uncommon to see someone take a 30% pay cut just because they are so desperate to establish themselves as an at-home business. Many are also working harder with their at-home business, which means they are working harder and getting paid less.?
That's a big cut to take for the privilege of working in a robe and slippers.
?
#5. Work As a Translator?
As the world grows smaller, the need to bridge the language gap will continue to increase.
We're already seeing this in the need to translate websites accurately into different languages. There is also the need to translate videos, provide closed captioning in other languages, and even put podcasts into multiple languages in a fluent way.
If you are fluent in a second language, then you have a very lucrative opportunity to earn an extra income from home.?
The average annual wages of an at-home translator with fluency in just one additional language is above $43,000.?
With a smaller world also comes a need to create technical manuals and provide marketing to new customer segments and demographics that make sense.
Translators help to create better materials by incorporating cultural and ethnic information into the words that are being translated. Translators that can provide this service can easily earn a wage that is above $50k.?
There is often one down side to working as an at-home translator: the hours. You'll often have to bridge the time gaps from one culture to the other.
For someone in the US who is translating items for a company in Singapore, the time gap can be 15-18 hours.
?
#6. Sell Stuff?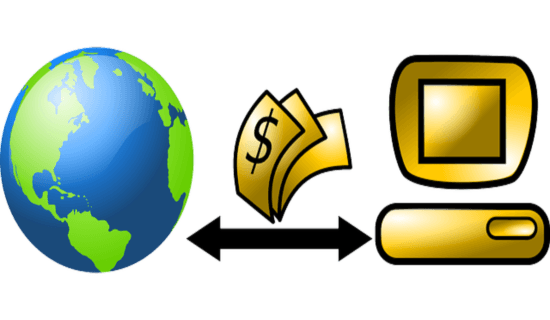 A position in sales will always be the great equalizer.
The problem with sales is that not everyone thinks they are good at it. Although some folks can establish relationships better than others or relate difficult concepts to prospects in a unique way that encourages a sale, the internet creates equality from behind the computer screen.?
There are numerous platforms that eliminate the need to have most sales skills. The only thing most businesses need to do when working from home is to know how to close a deal.?
You can do that with the written word and a video that shows the quality of what you're trying to sell. If videos aren't allowed on the web platform that you are using, then consider a high quality photograph of the item instead.?
Which platforms are worthwhile to use for selling items? Here are some of your most reliable options.?
eBay

. You can sell virtually any merchandise on eBay either through auction or the Buy It Now feature. The sales process occurs entirely online so there are guarantees in place for the transaction.

Etsy

. If you create items on your own for sale or you have a number of vintage items available to sell, then this is the platform for you. Etsy stores tend to take 12-18 months to establish themselves, so don't be discouraged if slow growth is experienced.

Fiverr

. This freelance website offers people the chance to sell services or products that they have created at a base price of $5. Every gig has the opportunity to have add-ons, called ?extras,? which provide upgrades. Some sellers are allowed to create a $10,000 transaction for services rendered ? a good rate indeed.??
#7. Customer Service Representation?
My friend Graham worked during his university days part-time as a customer service representative for a major telecommunications agency.
After two weeks of training on how to properly handle a call and provide needed services, he was set loose on the floor and took an average of 100 calls per day. He always says that it was the toughest, but most educational job he ever had.?
It was tough because customer service means 9 out of 10 calls come from people who are upset about something. There were at least 3 calls per day where the person calling in was so angry that they'd be swearing, name-calling, and even threatening at times.
What he learned was how to calm people down, provide them with precise information, and then be able to close the deal on an issue.?
Graham's job was outsourced eventually because it was cheaper to send it to the APAC region, but times are changing.
Companies have discovered that a poor foreign customer service experience can lead to long-term public relations problems. To counter this issue, many agencies are looking for home-based CSRs to balance cost and service.?
Here's the catch: many services hire by the minute or by the call.?
This means not every opportunity is a good one. ChaCha hires ?guides? to answer questions and complete transactions. Guides get paid $0.02 for every transaction they perform, which typically translates to an hourly wage of $3-$5.
On the other hand, being hired as an independent contractor for an agency to provide trouble management resources could pay upwards of $20 per hour.?
The key here is to not settle for the first opportunity that comes your way. This isn't going to be easy or passive income, but it will help to make ends meet when you're pinched for some extra cash.
?
#8. Revenue Sharing?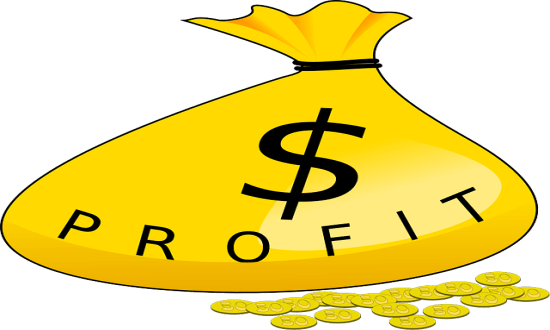 If passive income is what you want to create, then revenue sharing sites might be the best way to turn a little part-time work into an extra income.
It works like this: you create some kind of content that gets posted onto the internet. It can be graphics, written content, videos, or any combination of them.
The goal is to create pageviews that will generate revenues through impressions and clicks. The host site gets a portion and you get a portion of the money that gets generated.?
Many revenue sharing programs have favorable splits to the host. You'll want to look for programs that provide a fair split to the creator of the content.?
The good news here is that there are plenty of host sites available that are willing to share revenues with you. As long as that content is up, it will continue to keep growing revenues as well.
Here are some of your best options:
Hubpages
YouTube Partner Program
Digital Journal
InfoBarrel?
There's good and bad with this method of earning income. The good is that it can generate huge amounts of passive income if you can create content that goes viral.
The bad is that you could work for an entire month and be lucky to clear $5. Look for options that have low payout thresholds because if you need to make $100 before you'll get paid, at $5 per month, that's a couple years to be waiting.
?
#9. Avoid the Scams?
There are plenty of scams on the internet today that will offer you the chance to earn extra income online.
If you want to know how to earn an extra income from home, then you've got to know how to avoid the places that will sap your time and maybe even your money.?
Here are the top ways to work from home that you shouldn't be considering.?
Paid surveys.

There are some survey companies that are legit, but they are few and far between. Many will have a $50 or $100 pay threshold and then stop sending surveys when you get close to a payday. Never try to work for a survey company that requires upfront cash.

Mystery shopping.

The same rules apply to mystery shopping. There are some legitimate agencies that will hire for this position, but most are just out to take your cash. You can actually make more money by being a popular reviewer on sites like Yelp and referring traffic to blogs than you can from rating the performance of a business independently.

Online jury duty.

Prosecutors and defense teams like to test out their strategies before actually going to court. Some will hire an online jury to present their case to determine if they have a valid argument. The pay tends to max out at $60 and you could put in several days of work to get that much cash.
Sometimes a scam can be difficult to pick out. Not every business is registered with the Better Business Bureau or other agencies that track performance. Testimonials may seem real, but could actually just be words or video from paid writers and actors.
Always be cautious and pessimistic when approaching an online offer that you are not creating on your own. There are legitimate opportunities, but there are 3 scams for every 1 good offer.
Click on the image below to see a larger view: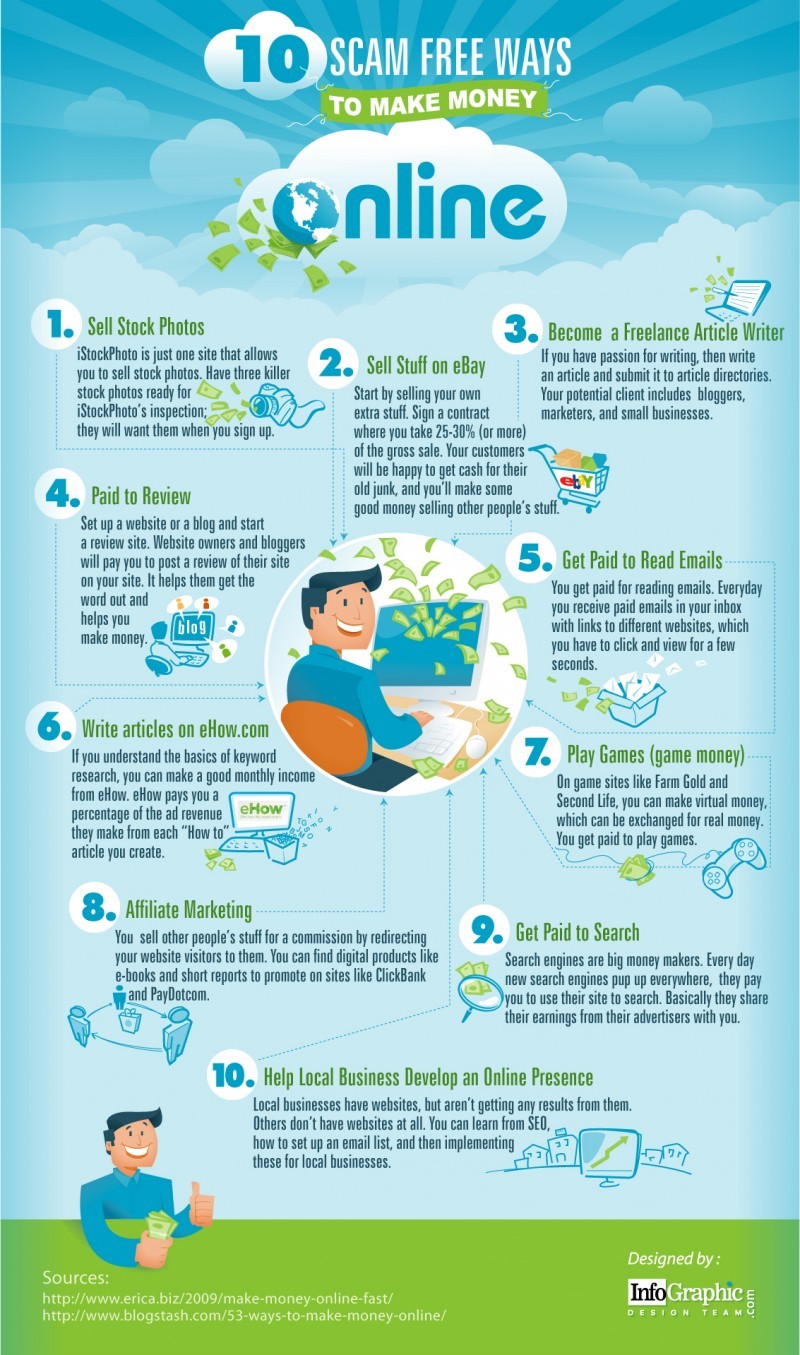 by infographicdesignteam.
Explore more visuals like this one on the web's largest information design community – Visually.
Are You Ready To Make Some Money?
Knowing how to earn an extra income from home means being able to take your talent and use it to benefit others in some way.
If you can avoid the scams and work independently on your own, then you'll be able to abandon the 9-5 grind and enjoy being able to work from home.
Take stock of your talents and resources, form a plan today using the options found here, and you will find that there is plenty of money that can be made.
[box style="rounded"]If you liked this post, please consider sharing it[/box]
————————————————————————————-
Images from Pixabay: open clips, geralt, knowledge, nemo, profit